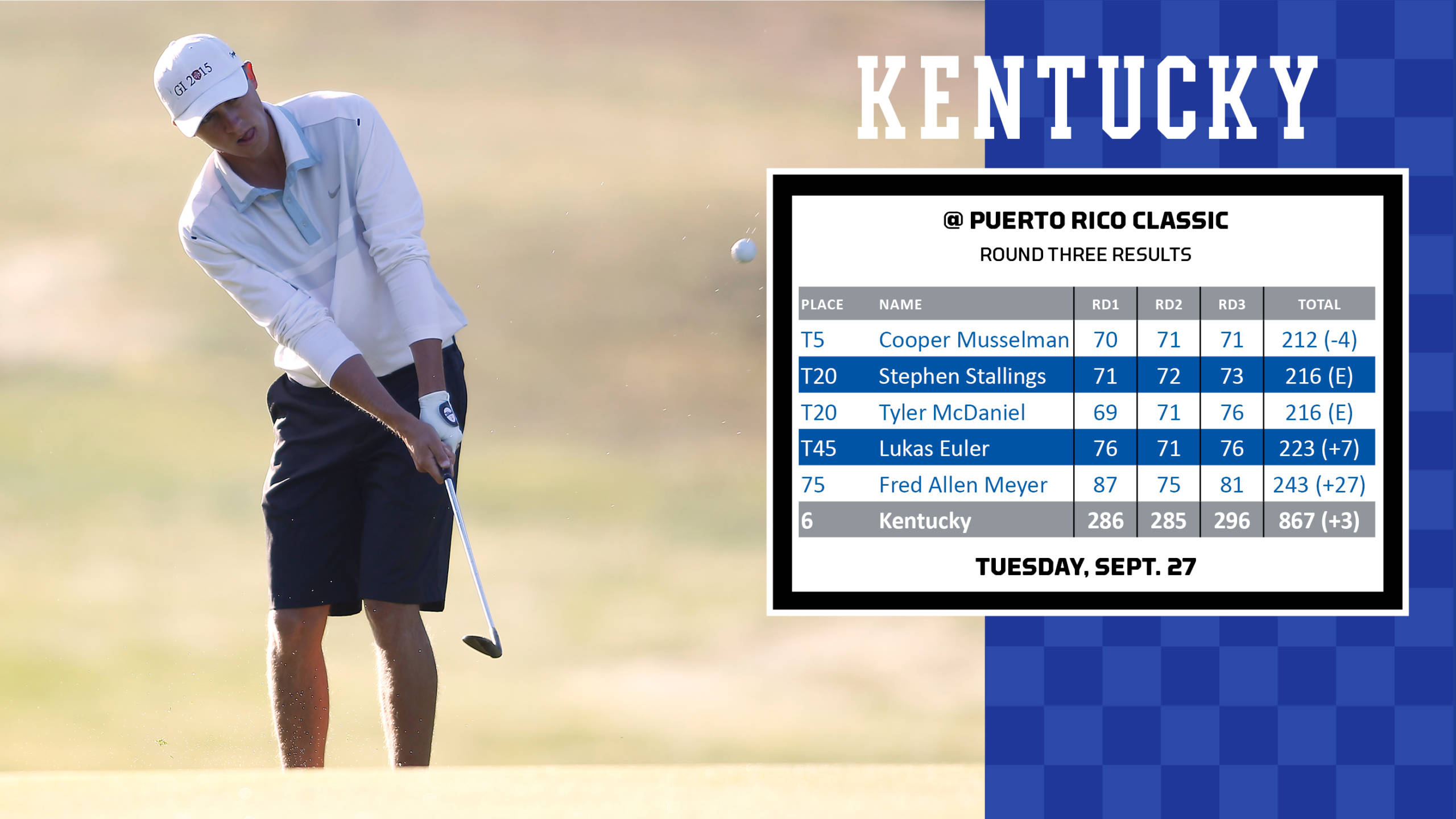 February 21, 2017 - 04:10 PM
Musselman Cards Third Under-Par Round to Finish in Top 10
RIO GRANDE, Puerto Rico – The Kentucky men's golf team capped off its first event of the spring in sixth place with a 3-over-par 867 at the Puerto Rico Classic. Three Wildcats finished among the top-20 individuals, paced by a career week from junior Cooper Musselman who fired his third straight under-par round in the final leg of the three-day tournament on Tuesday. He led all UK golfers with a tie for fifth place at 4-under. It's his team-leading third top-10 finish of the season.
What Head Coach Brian Craig is Saying:
"Overall, this was a good start to the spring season for us. We did not play our best today, but we did get a glimpse of what this team is capable of in the first two rounds. We have some serious work to do to achieve our goals, but I believe our best golf is in front of us.  Also, congratulations to Cooper Musselman for an excellent start to the season. He has been working hard and it is good to see the fruit of that labor this week."
About the Lineup:
Musselman finished among the top-10 individuals at each of his previous two events, and his performance this week landed him the second top-five finish of his junior season.
The Louisville, Kentucky, native played an almost flawless back nine again, racking up three birdies in a row and one bogey for a 2-under, 34 on the side. Musselman has shot 71 or better on seven different occasions this season, and his fifth-place finish matches his career best. The junior's 212 total score is his lowest 54-hole score this season. Out of all individuals, Musselman ranked tied for sixth in scoring average on par 3s (E), eighth on par 5s (4.67), and ninth in total birdies with 13.
Senior Stephen Stallings picked up his third top-20 finish of the season after his 1-over round on Tuesday led him to tie for 20th. The senior shot 2-under on the front nine with one bogey and only strayed away from par on one hole on the back nine. Stallings compiled an even-par 216 for the week, his second lowest 54-hole total of the season.
Junior Tyler "Chip" McDaniel was the third Wildcat that finished inside the top 20, his fifth top-25 finish of the season. Sophomores Lukas Euler finished tied for 45th, while Fred Allen Meyer finished 75th to round out the UK scores.
The Tournament Field:
No. 21 Clemson capped the tournament with a 3-under total on Tuesday to take the team crown. The Tigers finished at 19-under, 11 strokes ahead of second-place No. 10 Georgia. Georgia Tech and NC State tied for third at 5-under par, while Ohio State finished fifth at 1-over.
Up Next for the Wildcats:
Kentucky will return to the course for the General Hacker Intercollegiate March 11-12, in Myrtle Beach, South Carolina. The two-day, 54-hole tournament will be set at the Dunes Golf and Beach Club. It will mark the second of five spring tournaments for the Wildcats.
For the latest on the Kentucky men's golf team, follow @UKMensGolf on Twitter and on the web at UKathletics.com. 
Rio Mar Beach River Course
Rio Grande, Puerto Rico
Feb. 19-21
Par: 72
Yardage: 6,902
6 – Kentucky (286, 285, 296 – 867, +3)
T5 – Cooper Musselman (70, 71, 70 – 212, -4)
T20 – Stephen Stallings (71, 72, 73 – 216, E)
T20 – Chip McDaniel (69, 71, 76, 216, E)
T45– Lukas Euler (76, 71, 76 – 223, +7)
75 – Fred Allen Meyer (87, 75, 81 – 243, +27)