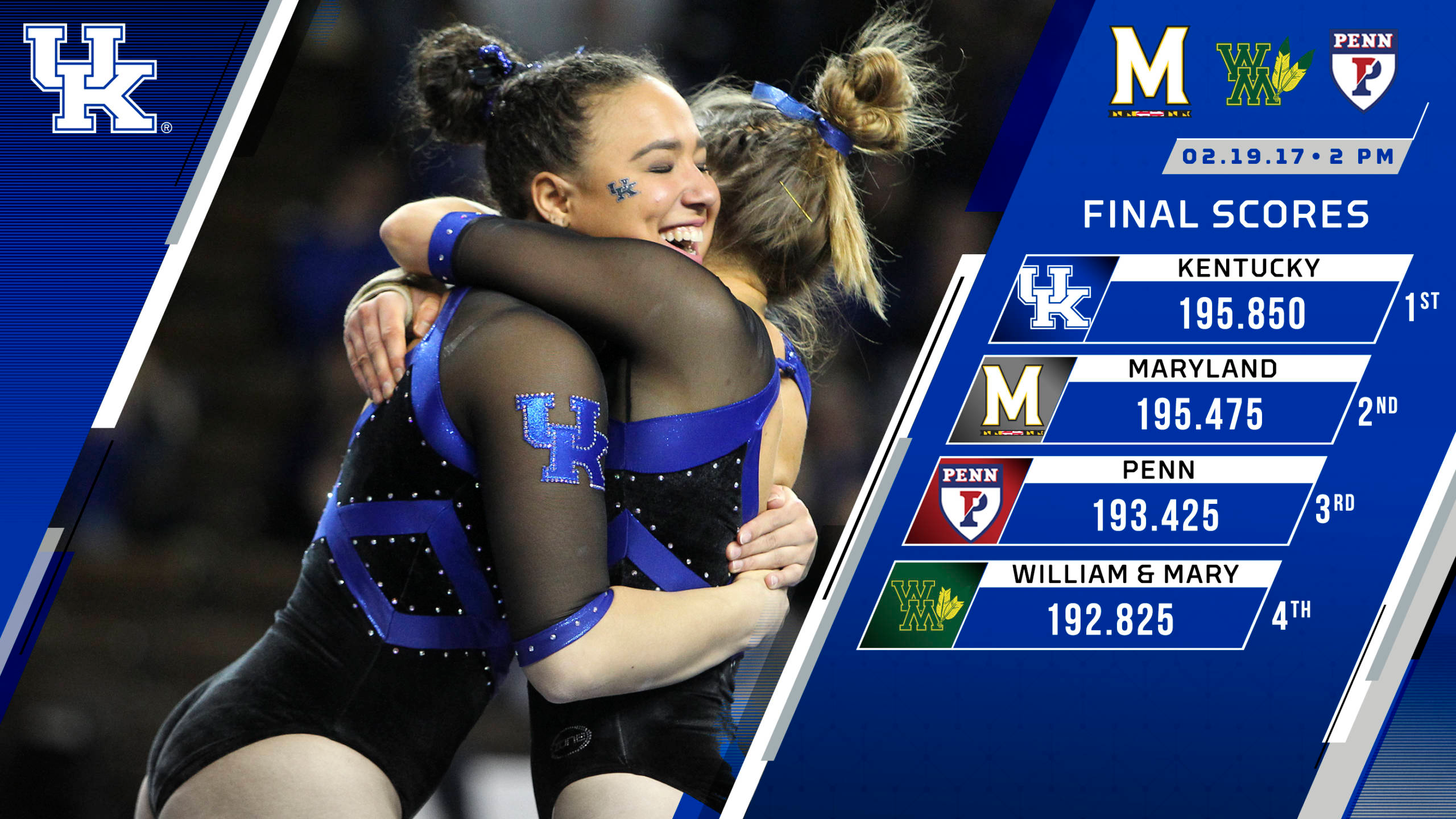 February 19, 2017 - 05:24 PM
No. 9 Kentucky Wins Maryland Quad Meet, Records Highest Vault Score in School History
COLLEGE PARK, Md. – The No. 9 Kentucky gymnastics team won the Maryland Quad Meet after posting a score of 195.850 inside the Xfinity Center on Sunday afternoon. UK defeated Maryland, Penn and William & Mary in the Wildcats' first quad of the season.
UK shined on vault with a score of 49.425, the best in school history. Freshman Mollie Korth earned a career best of 9.95 as the anchor, and she won the individual crown.
"It's great to put up that kind of score (on vault)," head coach Tim Garrison said. "The consistency of amplitude in training has allowed the vault team to spot their landings which has resulted in much better control the past two meets. They are performing at a very high level at this point."
Sophomore Danaea Davis and sophomore Katie Stuart both put up career high scores of 9.9 on vault as well. Davis, A Maryland native, did it with many of her friends and family in attendance. 
"I just feel really happy and I have worked really hard for this," Davis said. "I'm just so glad I could put up a good score for my team in front of my entire family. I can't describe the feeling of competing in front of them."
Sophomore Sidney Dukes earned her first all-around win of the season with a score of 39.225. The Tyler, Texas natives best score was on beam with a 9.85. Dukes posted a 9.825 on floor, and a pair of 9.775s on vault and bars. 
"It's good (to win the all-around), Dukes said. "Honestly, it wasn't my best but it feels good that I still have room to improve."
UK earned two individual titles on beam and vault. Korth won on vault with her career best 9.950, while sophomore Alex Hyland won beam with a 9.9. Coming into this meet, Hyland had average a 9.9 and sat at No. 2 in the nation in average beam score.
With
the quad meet win, Kentucky improved to 7-3 this season. UK will be back in action
on Friday at 7 p.m. inside of Memorial Coliseum. The Cats will welcome
Illinois, Northern Illinois and Washington for their second quad meet of the
year. 
BARS
Kentucky started the day on bars and put up a 48.325. Carlisle and Coca, the first two UK athletes to go, earned the best score on bars with scores of 9.8. Dukes put up a 9.775 while Stuart scored a 9.675. Hyland also contributed with a 9.275. 
BEAM
UK earned an impressive 49.175 on beam during its second rotation. Hyland put up another 9.9, as the anchor. Korth earned a 9.875, while Dukes scored a 9.850. Poland and Stuart scored scores of 9.775 each to contribute to high score.
FLOOR
The Cats posted a score of 48.925 on the floor, led by Korth with a 9.85. Dukes followed with a 9.825, and Carlisle posted  a 9.8. Rechenmacher earned a 9.750 and Hyland also contributed with a 9.7.
VAULT
UK earned a program best score of 49.425 on vault for its final rotation of the day. Korth took home the crown with a score of 9.95 and Stuart and Davis scored a 9.9. No Wildcat posted a score below a 9.775 on the day. Sophomore Aubree Rosa earned a 9.875, while Hyland also contributed with a 9.8.
"I'm really proud of the team and I'm glad we picked up the energy," Korth said. "Hopefully we can start stronger next week. 
For complete news and updates on the Kentucky Gymnastics program, go to UKathletics.com. Season tickets can be found on UKathletics.com/Tickets. News and updates on the team can also be found on Twitter at @UKGymnastics and at @UKCoachGarrison and Facebook at Facebook.com/UKGymnastics.