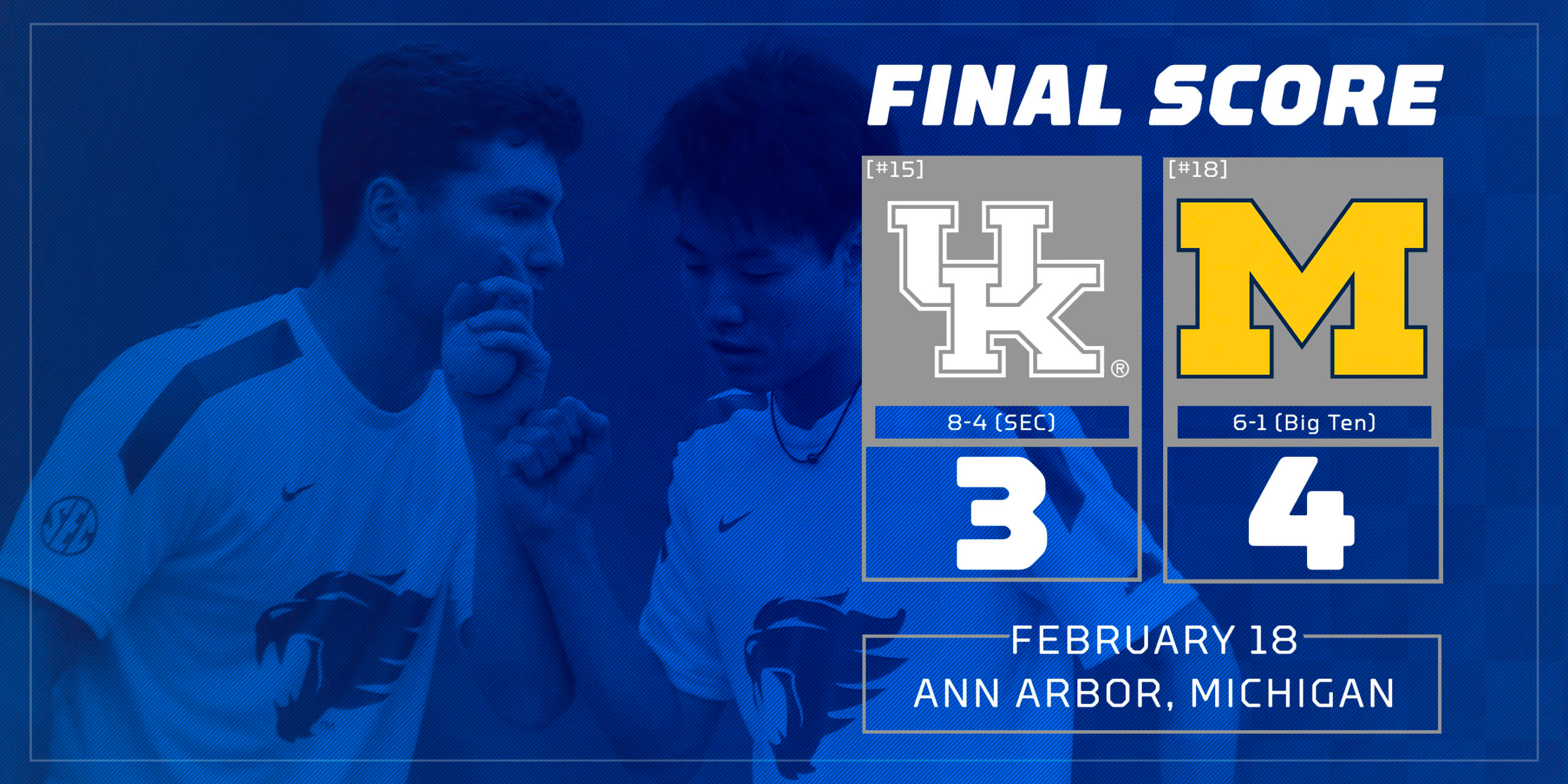 February 18, 2017 - 07:59 PM
No. 15 Kentucky Falls to No. 18 Michigan, 4-3
ANN ARBOR, Mich. – The match went down to the wire, but the No. 15 Kentucky men's tennis team could not take down No. 18 Michigan on Saturday in the Varsity Tennis Center where they fell, 4-3.
Michigan jumped out in front early when UM grabbed the doubles point. Jathan Malik and Connor Johnston defeated senior Beck Pennington and sophomore Enzo Wallart, 6-2. Myles Schalet and Kevin Wong clinched the doubles point when they beat junior Trey Yates and sophomore Ryo Matsumura, 6-3. Sophomore Will Bushamuka and senior Nils Ellefsen were locked in a battle with Alex Knight and Runhao Hua at 4-4 when doubles play was abandoned.
Pennington fired back to tie the match at 1-1 to begin singles play. He earned a ranked victory over No. 83 Kevin Wong, 6-4, 6-4. Pennington now has two ranked victories this season and is 8-2 this year.
Kentucky took a 2-1 lead when Ellefsen won, 6-3, 6-4, over Runhao Hua. Ellefsen improves to 8-1 this season.
The Wolverines punched back and tied the match at 2-2 as Matsumura fell to Schalet, 6-3, 6-3. Michigan gained a 3-2 advantage shortly after that match when Yates fell to Knight, 6-3, 7-5.
No. 33 Bushamuka earned his sixth win of the season and third as the No. 1 singles player to even the match at 3-3. He beat Jathan Malik in a hard fought 6-0, 3-6, 7-5.
The match came down to Enzo Wallart and Carter Lin, and it was a battle. Wallart took the first set, 7-5, but Lin matched that in the second set with a 7-5 win of his own. The third set went into a tiebreak after going back-and-forth. Wallart dropped the third set, 7-6 (7-4), to give Michigan the win. 
Kentucky is now 41-17 in singles play this season, including 7-3 at No. 1 singles. 
UK will be back in action next Friday when the Wildcats head to Illinois on Friday, Feb. 24 at 6 p.m.
For more information on the Kentucky men's tennis team, follow @UKMensTennis on Twitter or Kentucky Men's Tennis Team on Facebook. 
Michigan 4, Kentucky 3
Singles 
No. 1 — No. 33 William Bushamuka (UK) d. Jathan Malik (U-M), 6-0, 3-6, 7-5
No. 2 — Myles Schalet (U-M) d. No. 17 Ryotaro Matsumura (UK), 6-3, 6-3
No. 3 — Beck Pennington (UK) d. No. 83 Kevin Wong (U-M), 6-4, 6-4
No. 4 — Nils Ellefsen (UK) d. Runhao Hua (U-M), 6-3, 6-4
No. 5 — Alex Knight (U-M) d. Trey Yates (UK), 6-3, 7-5
No. 6 — Carter Lin (U-M) d. Enzo Wallart (UK), 5-7, 7-5, 7-6 (4)
Doubles
No. 1 — Jathan Malik/Connor Johnston (U-M) d. Beck Pennington/Enzo Wallart (UK), 6-2
No. 2 — Alex Knight/Runhao Hua (U-M) vs. William Bushamuka/Nils Ellefsen (UK), 4-4 abandoned
No. 3 — Myles Schalet/Kevin Wong (U-M) d. Trey Yates/Ryotaro Matsumura (UK), 6-2
Order of Completion: Doubles 1-3; Singles 3-4-2-5-1-6