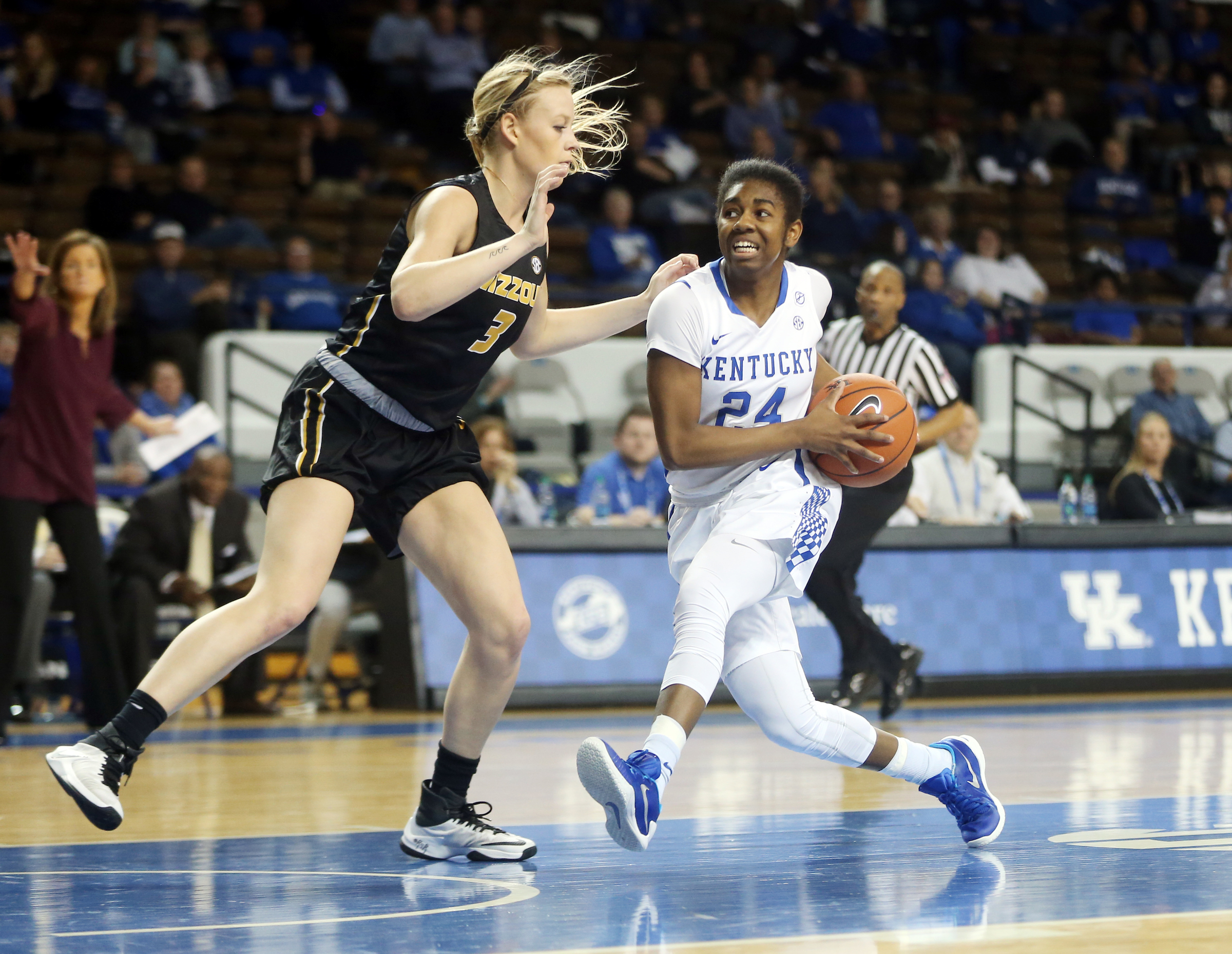 There's an old saying that directly applies to Kentucky point guard Taylor Murray. As the saying goes, it's not the size of the dog in the fight, it's the size of the fight in the dog.
Murray, who stands 5-6 and is generally the smallest player on the floor, has shown plenty of fight for the Wildcats during the 2016-17 campaign. In a game against Arizona State, Murray broke the pinkie finger on her left hand. She missed the next two games before returning to the lineup with a splint on her finger. The pain was tremendous, but Murray fought through it and played well.
But it didn't necessarily start that way. When Murray first arrived on campus, in the summer of 2015, Kentucky head coach Matthew Mitchell wasn't sure she was up to the task of college basketball.
"I tell people the first day she showed up on campus, we were at her first individual workout and I remember telling the coaches, 'I don't know if we are going to be able to let this kid shoot in the game'," Mitchell said. "Her shot was so bad and she had just such a tough workout that first day. To see what she has done in less than two years is a real testament to her be coachable and just getting in the gym and working hard every day."
Not only has Murray progressed with her shot, she's shown the ability to do things that most players her size are unable to do. Twice this season, the sophomore from Odenton, Maryland, has grabbed 13 rebounds in a game. Only six times this season has a UK player had more rebounds in a game (Evelyn Akhator five times and Makayla Epps once). 
In Thursday night's win at Arkansas, Murray had eight more rebounds. In addition to her board work, she had 16 points, five assists and six steals in the win.
"She just batted a couple balls out (Thursday) just with quick hands and was off for the races," Mitchell said. "Her total package allows her to do these things."
Murray is currently third on the team in scoring, averaging 12.5 points per game. She's second on the team in assists, with 84, and, showing the fight that helps her excel, she's second on the team in rebounding, averaging 5.3 boards per contest.
Mitchell knows he has something special in Murray.
"She is just a tremendous athlete and when you couple that with extremely high character and tremendous desire to win and compete and tremendous love for her teammates, she is a great, great young woman," Mitchell said. "We are fortunate to have her."
What makes Murray so tough on the floor is her extreme quickness. She can get a steal, then outrun the defense to the basket on the other end for a layup. Her speed and quickness also allows her to get in positions to have open shots at the basket. And, as she proved again on Thursday night at Arkansas, her quickness allows her to get good rebounding position.
Mitchell sums up his point guard in one sentence.
"She is not very tall, but she does have some length and has great explosive speed straight ahead that is elite and just her overall athleticism and her lateral moves and jumping allows her to do some of those things."
Murray proves time and again that there's plenty of fight in her, despite her relative lack of size.