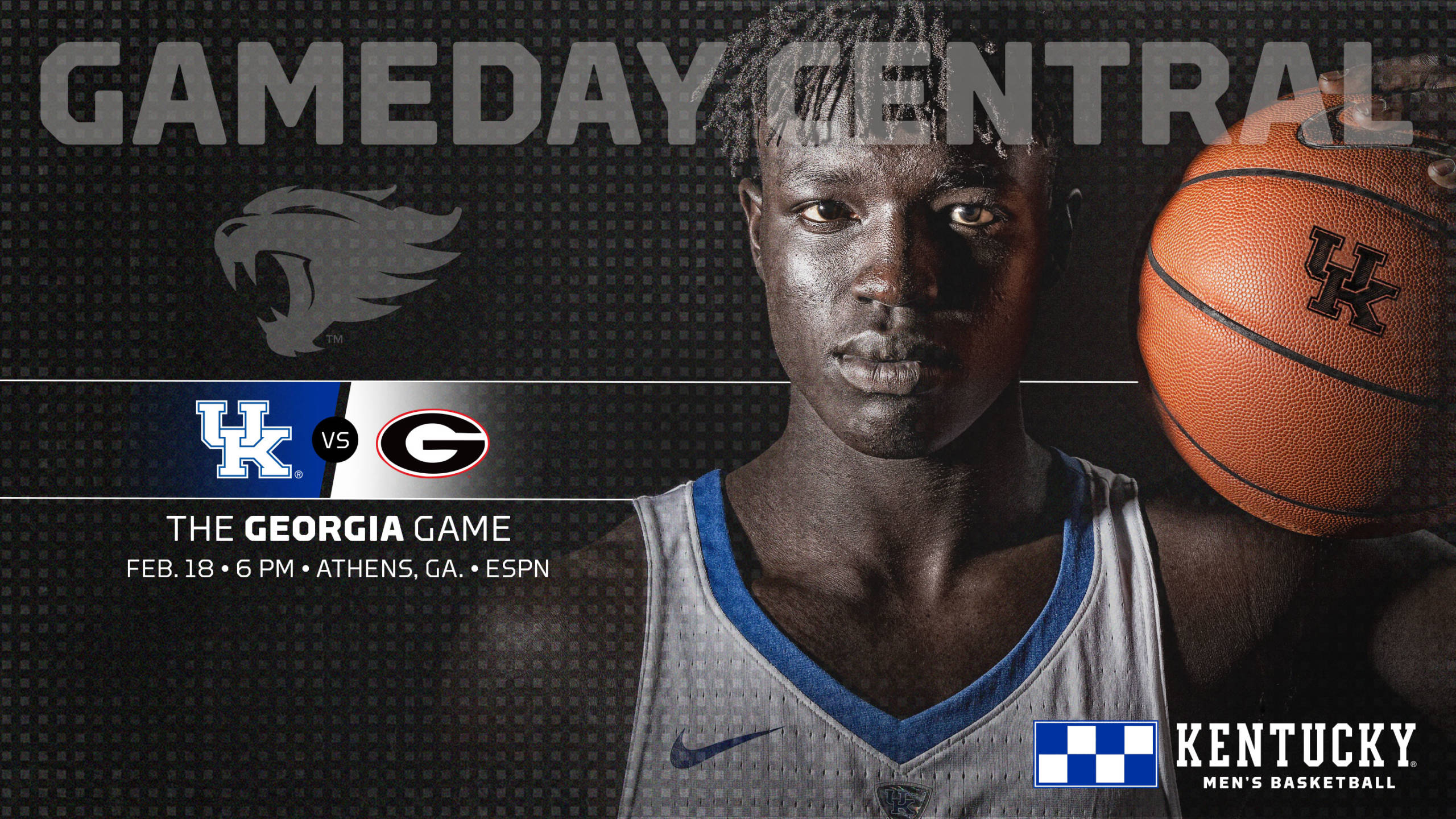 February 17, 2017 - 04:40 PM
Fox Resurgent Entering UGA Rematch
While his teammates were scratching and clawing to claim an overtime victory against Georgia on Jan. 31, De'Aaron Fox was stuck in bed.
Battling an illness that made it a struggle to even stay awake for the 9 p.m. game, Fox was left frustrated.
Kentucky at Georgia

Sat., Feb. 18 – 6 p.m. ET
Stegeman Coliseum
Athens, Ga.
Game Notes: UK

| UGA



Gameday App

Coverage

TV: ESPN
Radio: UK Sports Network
Watch ESPN
Live Audio
Live Stats
Digital Gameday Guide
Text Updates

UK
2016-17 Team Stats
UGA
21-5
Record
15-11
11-2
Conference Record
6-7
89.1
PPG
72.4
73.1
Opp PPG
69.5
.484
FG%
.445
.428
Opp FG%
.406
40.4
RPG
38.0
.357
3PT FG%
.329
.316
Opp 3PT FG%
.336
.689
FT%
.747
16.8
APG
13.9
6.4
SPG
5.7
5.8
BPG
4.1
"It drives me crazy because I can't play more than the sick part," Fox said. "Just wanted to be out there with my teammates."
Two-and-a-half weeks later, Fox is again on the floor with his fellow Wildcats as No. 13/11 Kentucky (21-5, 11-2 Southeastern Conference) prepares for a rematch with the Bulldogs (15-11, 6-7 SEC). The freshman point guard has been back in the lineup the last four games, but he's only just emerging from the fog brought on by that illness and an ankle injury that preceded it. 
"Just every game I'm starting to feel better," Fox said.
He certainly looked that way last time out in leading UK to a dominant win over Tennessee. Fox's trademark quickness took a hit due to his injury and sickness struggles, but it seemed back on Tuesday. 
"It just happens when everyone gets hurt or gets sick," Fox said. "The physical aspect of their game goes down a little bit, but you build it back up."
Particularly in the second half, the defensive peskiness that helped Fox set the tone for UK on that end of the floor returned. And what a difference it makes, particularly when the opponent has a dynamic backcourt threat the likes of Georgia's J.J. Frazier.
"If you watched him defensively, we're seeing a guy at the top of the defense clapping and getting down, which makes the rest of you – it's contagious," John Calipari said. "And then playing (lazily) is contagious, too. Now they're looking at that, what am I going to get in the stance and really go and go out front? So he's really starting defensively, and then he's making good decisions."
As Coach Cal said, Fox picked his offense up as well in scoring 13 points against Tennessee and, more importantly, dishing out six assists against zero turnovers. It was his first game with at least six more assists than turnovers since UK's impressive SEC-opening win over Ole Miss on Dec. 29 and it's no coincidence it came as the Cats moved the ball better than they had in a long time.
Fox, however, knows it's more than just about him.
"Honestly I just start it," Fox said of the ball movement. "It's on everybody. It's not just one person that can do it. One person can't move the ball when there's five players on the court. The last few games, we've been moving the ball, everyone's been doing what they need to do and we've looked a lot better."
Nonetheless, it's indisputable that UK is at its best when Fox is on the floor and at full strength. That's part of the reason why the Cats are encouraged entering Saturday's 6 p.m. rematch with Georgia.
"I think it's different," Wenyen Gabriel said. "Fox is obviously another threat on the floor, another player they have to worry about. Maybe it will change their game plan and things like that. It's definitely a positive for us."
UK will need to be at full strength for what will surely be a tough test. The game in Stegeman Coliseum has been sold out for months and the Bulldogs have reason to be confident. Only a contested Malik Monk jumper in the final 10 seconds kept Georgia from a win in regulation in Rupp Arena.
"We know it's going to be tough, but it's something we know we can do," Fox said. "It's not impossible for us to do and hopefully if we're able to play the same way we played last game I think it can happen again."
With a healthy Fox, UK is riding some positive momentum for the first time in a while. Now the Cats have to sustain it.
"We're just trusting the process," Fox said. "We can still get a lot better, but things can go down just like the way it did. So we're just trying to trust what Cal's teaching us."
Prolific First-Half Shooting Ignites Dominant Win Over Tennessee
Tennessee jumped out to an early 5-0 lead and it looked like the No. 13/11 Kentucky Wildcats were in for another fight, but an 18-3 run that featured five combined 3-pointers from seniors Derek Willis and Dominique Hawkins and freshman Malik Monk helped the home team race out to a 20-12 lead and never look back.
Kentucky (21-5, 11-2 Southeastern Conference) knocked down a season-high 10 3-pointers in the opening half – the most for any half this season – and took a 47-32 lead into the break en route to a dominating 83-58 win to avenge an earlier loss to the Volunteers this season.
Monk led five Wildcats in double figures with 20 points, while Willis contributed 16. Hawkins scored in double digits for the first time this season and just the second time in his career with 10. Freshman De'Aaron Fox added 13 and sophomore Isaiah Briscoe chipped in with 12.
UK's prolific scoring freshman, Monk, contributed on the defensive end with a career-high eight rebounds to help Kentucky to a plus-8 advantage on the boards. Classmate Bam Adebayo hauled in 12 for his first double-figure game on the boards since Dec. 3 vs. UCLA.
It marked the first double-digit victory for Kentucky since an 85-69 win over South Carolina on Jan. 21.
Long-range shooting provided the biggest lift as Kentucky (21-5, 11-2) made 11, its first double-digit effort from behind the arc in a month, as Monk and Willis each made four in the first half. The Wildcats held Tennessee (14-12, 6-7 SEC) to 35 percent shooting and led by as many as 28 points in handing the Volunteers their third loss in four games.
Good ball movement (17 assists) created good perimeter opportunities for the Wildcats, whose 10 first-half 3s were nearly as many as the Cats had overall against Auburn last month (11). UK's transition game also clicked throughout with an 18-0 advantage in fast break points, and UK controlled the paint 32-18.
Additional notes:
• Kentucky leads the series 153-69, including 92-16 in Lexington
• UK held Tennessee to 58 points, the Volunteers' fewest of the season
• Kentucky is 141-5 (.966) under John Calipari when limiting the opponent to 63 points or fewer
• UK has won 46 consecutive games in Rupp Arena vs. unranked opponents
• Monk tallied a game-high 20 points, continuing his streak of double-figure scoring in every game this season. It was also his 15th 20-point game of the season
• Briscoe and Fox combined for 25 points, 12 assists, seven rebounds, four steals and just one turnover
Nine Wildcats to be Featured at NBA All-Star Weekend
The Kentucky men's basketball team will make its annual presence felt at NBA All-Star weekend in New Orleans with nine Wildcats participating in the league's showcase of talent. Headlined by three NBA All-Stars, more alumni than any other school, UK will touch nearly every part of All-Star weekend.
The main event will be Sunday night at the Smoothie King Center in New Orleans for the All-Star Game. Anthony Davis and John Wall will be making their fourth appearances in the game while DeMarcus Cousins will make his third. That game will be Sunday at 8 p.m. ET on TNT.
But it's far from the only action of the weekend featuring the Wildcats. Things officially start Friday with the BBVA Rising Stars Challenge at 9 p.m. ET on TNT. Four former UK products – Devin Booker, Trey Lyles, Jamal Murray and Karl-Anthony Towns – will suit up in that game. Booker and Towns will play for Team USA while Lyles and Murray will represent the World. No other school has more than two representatives in the Rising Stars Challenge.
All-Star Saturday will begin with the NBA D-League All-Star Game at 2:30 p.m. ET. Wildcats Dakari Johnson and Alex Poythress will participate in that game at the Mercedes-Benz Superdome. The game will be televised by NBA TV.
John Calipari one day hopes that half the NBA All-Star Game will be filled with Kentucky Wildcats. That wish will come true by some measure in the Taco Bell Skills Challenge with four of the eight participants hailing from UK. Booker, Cousins, Davis and Wall will look to make it two straight Skills Challenge titles for Kentucky after Towns won the event last season. This year's event will start at 8 p.m. ET on TNT.
In the All-Star Game on Sunday, Davis will make his second start in the annual NBA spectacle, while Cousins and Wall will come off the bench as reserves.