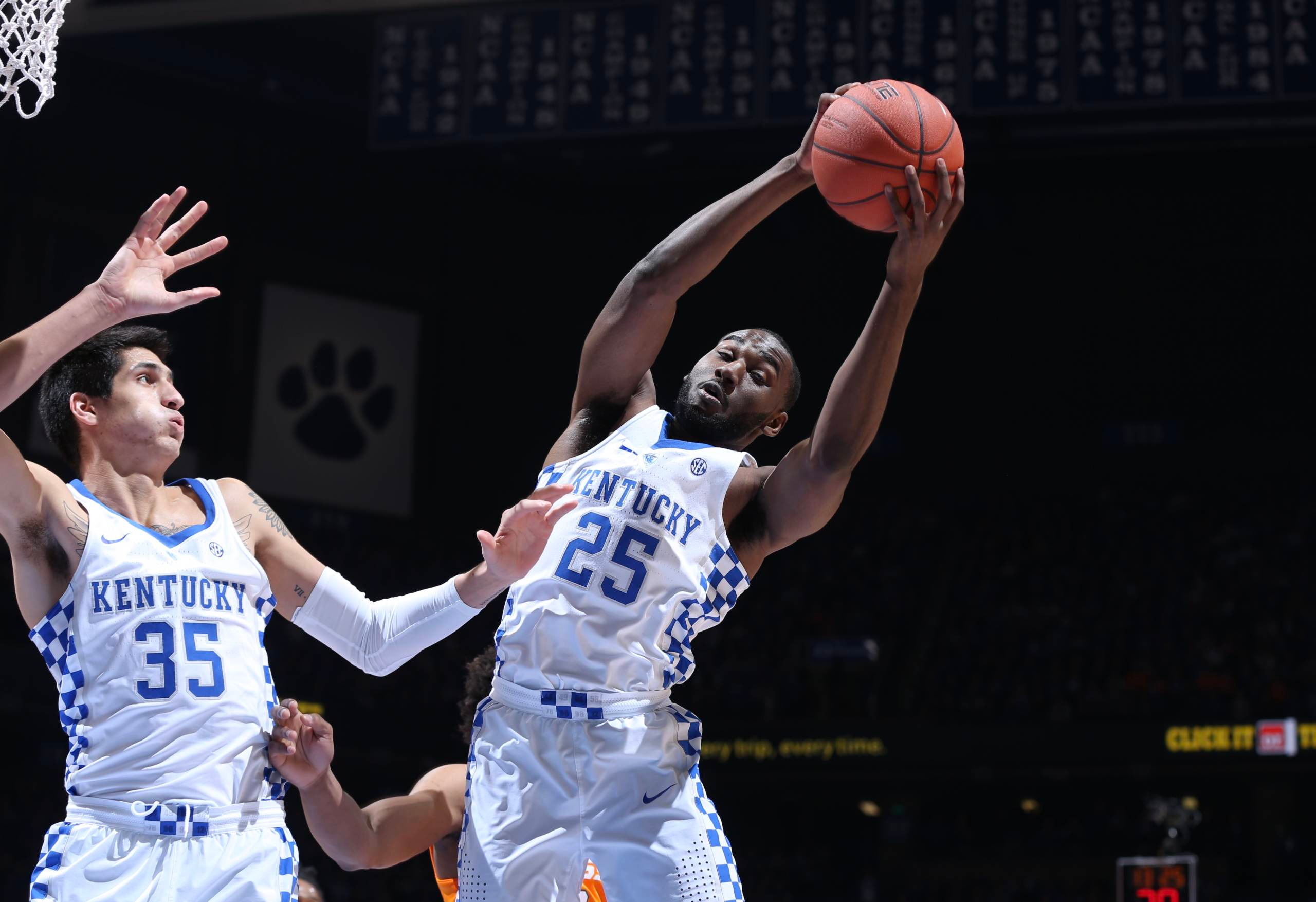 February 14, 2017 - 10:47 PM
'Old Reliable' Hawkins Delivering for Cats
Waiting his turn has become Dominique Hawkins' specialty.
Remarkable talent has surrounded Hawkins every day of his four years at Kentucky. But somehow, whenever his number is called, he's always ready.
How does he do it?
"I always just say that my time is coming," Hawkins said. "Everybody in my family always says, 'Be patient.' When you're a patient person, good things will come for you."
More and more often during his senior season, Hawkins' patience has been rewarded. The Richmond, Kentucky, native has played 454 minutes in 26 games in 2016-17 after playing just 695 in his first three seasons. He's poised to surpass his scoring total from his freshman, sophomore and junior seasons by the end of this year and has already upped his career assist total from 39 to 91.
Nothing about Hawkins' emergence surprises his coach.
"Because he is a fierce competitor, he's tough as nails, he will come up with — any 50/50 ball, he's getting — and offensively he's gotten better each year," John Calipari said.
His offensive improvement was on display Tuesday night as No. 13/11 UK (21-5, 11-2 Southeastern Conference) avenged a January defeat by downing visiting Tennessee (14-12, 6-7 SEC), 83-58. Hawkins had 10 points – including a pair of made 3s – four rebounds and two assists.
"We came out with great energy," Hawkins said. "Everybody played well together. We were moving the ball. I had many open shots and we remembered last game how we played (against Tennessee) and we didn't want to play that bad again."
No one had more energy than Hawkins in his 24 minutes and no one had a better plus/minus either – Hawkins was plus-24 on the evening. When he checked in at the 14:18 mark of the first half, Hawkins wasn't thinking about the fact that he had started the game on the bench for the 97th time in his 109 career games. He didn't carry anything away from the game onto the court.
All Hawkins did was focus on what he does.
"Definitely on the defensive end, my pressure on the ball and getting defensive rebounds and getting steals," Hawkins said. "And on the offensive end, driving, getting the other people involved, getting to my floater, hitting the open shot."
That's what makes Hawkins such a valuable piece on a young team that inevitably battles inconsistency: You always know what you're going to get.
"He's like old reliable," Calipari said. "You know you can go to him, he can play point guard, he can play off guard, if you want him to guard a big man he'll go rebound."
It hasn't been often that Hawkins has been a topic in postgame press conferences, but he's never minded. He does appreciate the recognition from his coach though.
"Coach Cal knows what my role is and I know what my role is as well," Hawkins said. "Being able to play for Coach Cal is an honor. He's a Hall of Fame coach and for him to say that is just great."
Hawkins is really never not smiling on camera and his sunny disposition always shines through. The player who surely could have gone to another school and been a full-time starter and maybe even a star couldn't be happier to be where he is.
"A lot of people tell me that, but Kentucky was always my go-to school and I'm so glad I came here," Hawkins said. "The four years I've been here have been a blessing for me. I wouldn't want to be at any other school other than here."
Hawkins doesn't yet know what the future holds for him, though he does anticipate pursuing a future in basketball. A green room invitation isn't in the cards on draft night like it will be for some of his teammates, but he's not envious.
In fact, he's grateful he has those teammates alongside him as he works to finish his career in style.
"It actually helps me a lot because I'm going against the best," Hawkins said. "I definitely want to play with the best players because that's the only way to make it to the national championship. If you have the best team, you're going to make it far into the NCAA Tournament. And that's what I want to do."