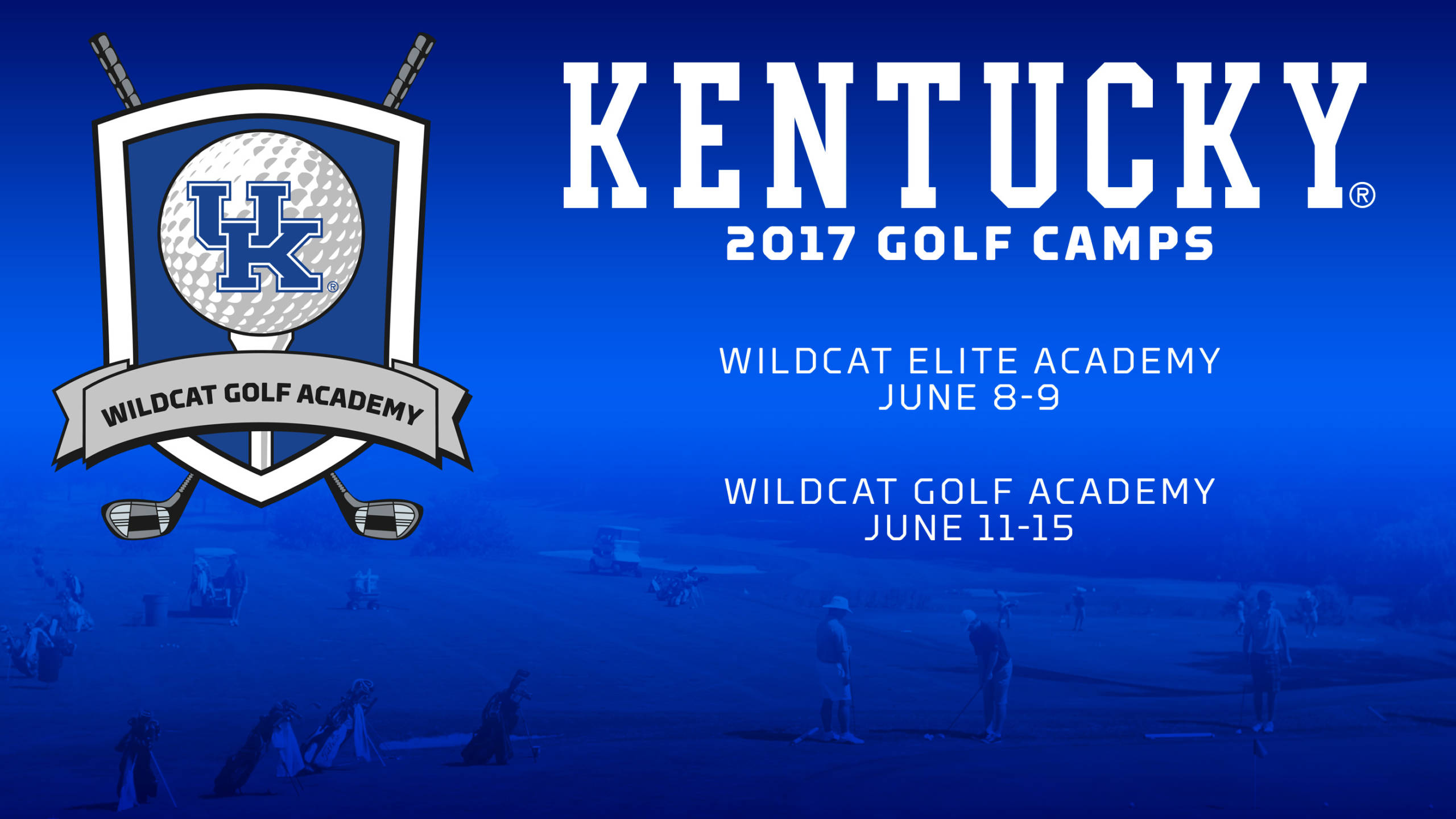 February 12, 2017 - 09:29 PM
2017 Kentucky Golf Camps
Camp Brochure (PDF) | Register Online
WILDCAT ELITE ACADEMY
The Wildcat Elite Academy is very different from any other camp you will find. Our goal is to teach you the finer skills and techniques required to play your best. For two days, we will work with your natural ability and cover everything necessary to help you maximize your potential. We will also conduct three classroom seminars, and answer any questions you may have about college golf after high school. 
June 8-9 (DAY CAMP ONLY) 
$395 per camper
SCHEDULE
8:45-11:45 a.m. — Skill Instruction
12-1 p.m. — Lunch/Seminar
1:15-4:15 p.m. — Skill Instruction
ELITE ACADEMY DISCOUNTS 
• $50 discount per entrant that is on the same school team (2 or more)
• $50 discount per sibling signing up together
25% discount for UK employees' children and grandchildren
ELIGIBILITY 
Boys & girls ages 12-19 who have a desire to play tournament golf. Camp is limited to the first 18 paid entrants of the Wildcat Elite Academy.
WILDCAT GOLF ACADEMY
June 11-15 OVERNIGHT CAMPER $795 per camper
June 11-15 DAY CAMPER $695 per camper
GOLF ACADEMY DISCOUNT 
• $50 discount per entrant that is on the same school team (2 or more)
• $50 discount per sibling signing up together
• 25% discount for UK employees' children and grandchildren
TYPICAL DAILY SCHEDULE
• Breakfast
• Skill Instruction Rotations
• Lunch
• Intramural Competitions
• Play Golf
• Dinner
• Evening Activities (Player/Coaches Panel, Rules, Gattitown, Swim, etc…)
• Lights Out
MEDICAL INFO & REQUIREMENTS:
UK camps require the following forms to be completed prior to participation:
1. Registration & Payment (online preferred)
3. Copy of Physical Form (must be signed by a physician in the last 12 months)
4. Copy of the front and back of health insurance card
CAMP STAFF
Brian Craig
16th year as UK Head Men's Coach
• SEC Coach of the Year: 2004-05
• SEC Champions: 2004-05
• Eaton Golf Pride Midwest Coach of the Year: 2003-04,2004-05
• Golf Coaches Association of America Regional Coach of the Year: 2004, 2005
• NCAA Central Regional Champions: 2003-04
• Led the Wildcats to three consecutive top-eight finishes at the NCAA Championships: 2003-04 (8th), 2004-05 (7th), 2005-06 (5th)
• Under Craig's tenure, UK has recorded more than half (five) of UK's appear¬ances in the NCAA Championship leading the team to a 13th place finish in 2016
Ben Fuqua
2nd year as UK Assistant Men's Coach
• Former team MVP, two-time UK Captain and four-year letterwinner at UK (2005-09)
• Claimed four top-five performances and one victory at Kentucky
• Won 3 USGA Medals
• Member of the 2005 SEC Championship team
• Holds the UK single Tournament 54 hole scoring record
• Served as head coach at Asbury University and Lexington Catholic HS from 2013-14
• Kentucky Mr. Golf in 2003
• 2003 KHSAA State Champion
Nic Robinson
3rd year as Asbury University Head Women's Coach
• Head Golf Professional at Connemara Golf Course
• Assistant Golf Coach at Lexington Christian Academy from 2011-2013
• Graduted from Southeast Missouri State with a degree inBio-Medical Science