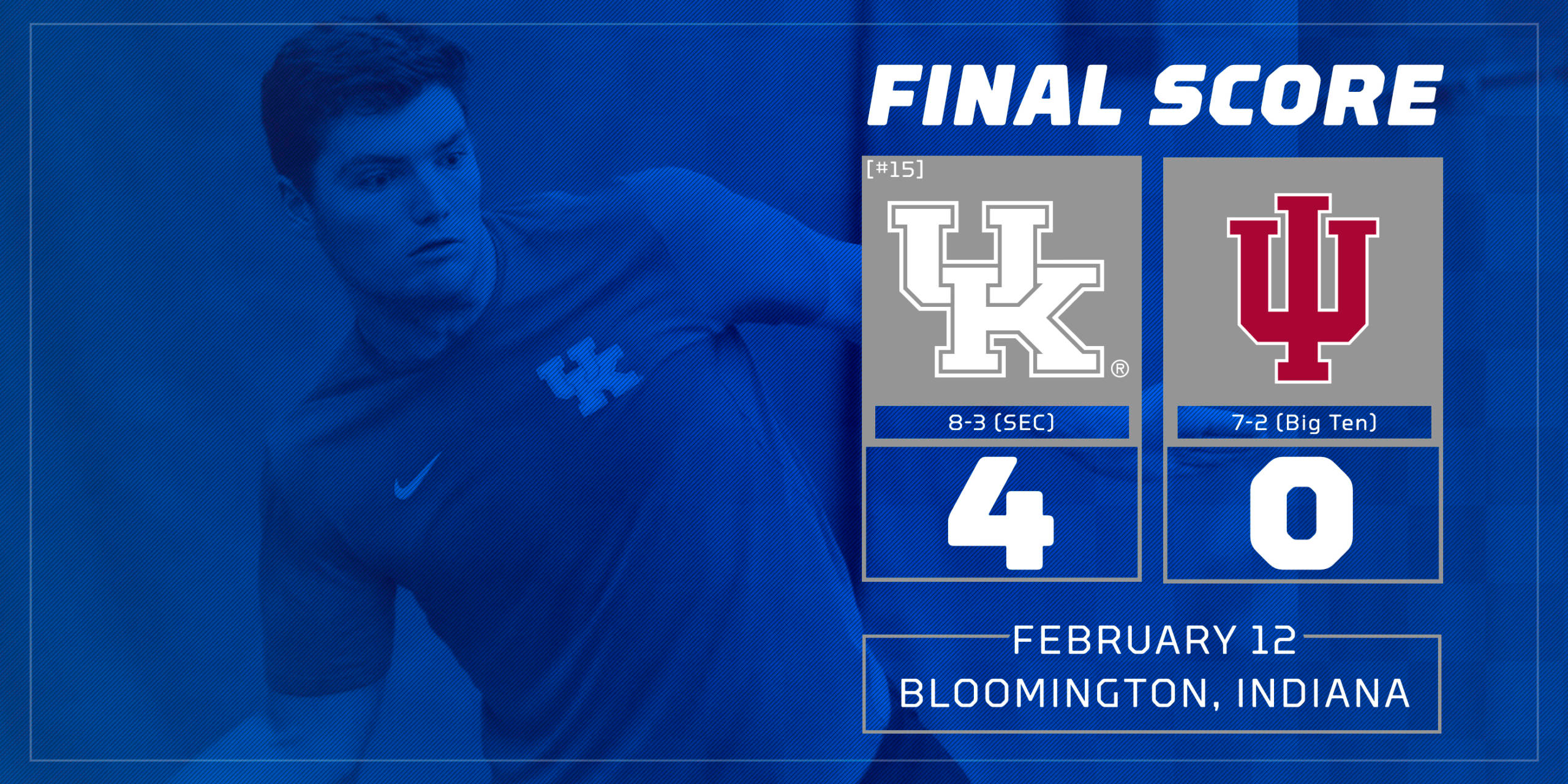 February 12, 2017 - 04:33 PM
No. 15 Kentucky Downs Indiana, 4-0
BLOOMINGTON, Ind. – No. 15 Kentucky took down Indiana, 4-0, on Sunday afternoon inside the IU Tennis Center. UK improved to 8-3 this season, and earned its first win away from the Boone Tennis Center. 
UK jumped out to an early 1-0 lead after taking the doubles point. Junior Trey Yates and sophomore Ryo Matsumura fell to Zac Brodney and Bennett Crane, 6-3, in the first match in doubles. Sophomore Will Bushamuka and senior Nils Ellefsen even the battle for the doubles point when they beat Cembillin/Lugonjic, 6-3. The duo of senior Beck Pennington and sophomore Enzo Wallart earned a ranked win over the No. 31 duo of Raheel Manji and Keivon Tabrizi, 6-4, 6-3, and gave UK the doubles point.
"Great way to start off by getting the doubles point and then getting the points to fall in singles," Yates said. "It was a tough environment to play in but it is always nice to come out with a win on the road."
Yates gave UK a 2-0 advantage when he breezed past Crane, 6-2, 6-3. Wallart finished shortly after Yates and walked past Afonso Salgado, 6-2, 6-3. Yates improves to 4-3 during the spring season, while Wallart improves to 4-2. 
"Good win for us today. Never easy playing these teams on the road but we did a good job of getting the doubles point ant then winning three singles points in two sets. I'm proud of the way I played and competed today. Now we need to get ready for the upcoming matches."
No. 17 Matsumura earned a win in straight sets, 6-4, 6-3, to give Kentucky the 4-0 win. Matsumura improves to 6-2 this season, and he has not dropped a match as the No. 2 singles player. 
"I think it was a great match for us especially after having a tough loss against OSU on Friday," Matsumura said. "As an individual I'm starting to feel my forehand again so I think it's a good sign for me. We're ready to fight against Michigan and Illinois on the road the next two weeks."
Pennington was locked in a battle with Cembellin at 6-1, 6-7, 0-1 when play was called. Bushamuka was also unable to finish, and he was at 0-6, 6-6 (3-4). 
Kentucky is now 38-14 in singles play this season. With the ranked doubles win, UK now has five victories over ranked individuals or doubles duos. 
The Wildcats return to action on Sunday, February 19 at Michigan. The match is set to begin at 1 p.m. 
RESULTS
Kentucky 4, Indiana 0
Singles
1. Raheel Manji (IU) vs. No. 33 William Bushamuka (UK) 6-0, 6-6 (4-3) UF
2. No. 17 Ryotaro Matsumura (UK) def. Keivon Tabrizi (IU) 6-4, 6-3
3. Antonio Cembellin (IU) vs. Beck Pennington (UK) 1-6, 7-6, 1-0 UF
4. Matthew McCoy (IU) vs. Nils Ellefsen (UK) 6-4, 5-5 UF
5. Trey Yates (UK) def. Bennett Crane (IU) 6-2, 6-1
6. Enzo Wallart (UK) def. Afonso Salgado (IU) 6-2, 6-3
Doubles
1. Pennington/Wallart (UK) def. No. 31 Manji/Tabrizi (IU) 6-3
2. Bushamuka/Ellefsen (UK) def. Cembellin/Lugonjic (IU) 6-3
3. Crane/Brodney (IU) def. Yates/Matsumura (UK) 6-3
Order of finish: Doubles (3,2,1), Singles (5,6,2)
For more information on the Kentucky men's tennis team, follow @UKMensTennis on Twitter or Kentucky Men's Tennis Team on Facebook.