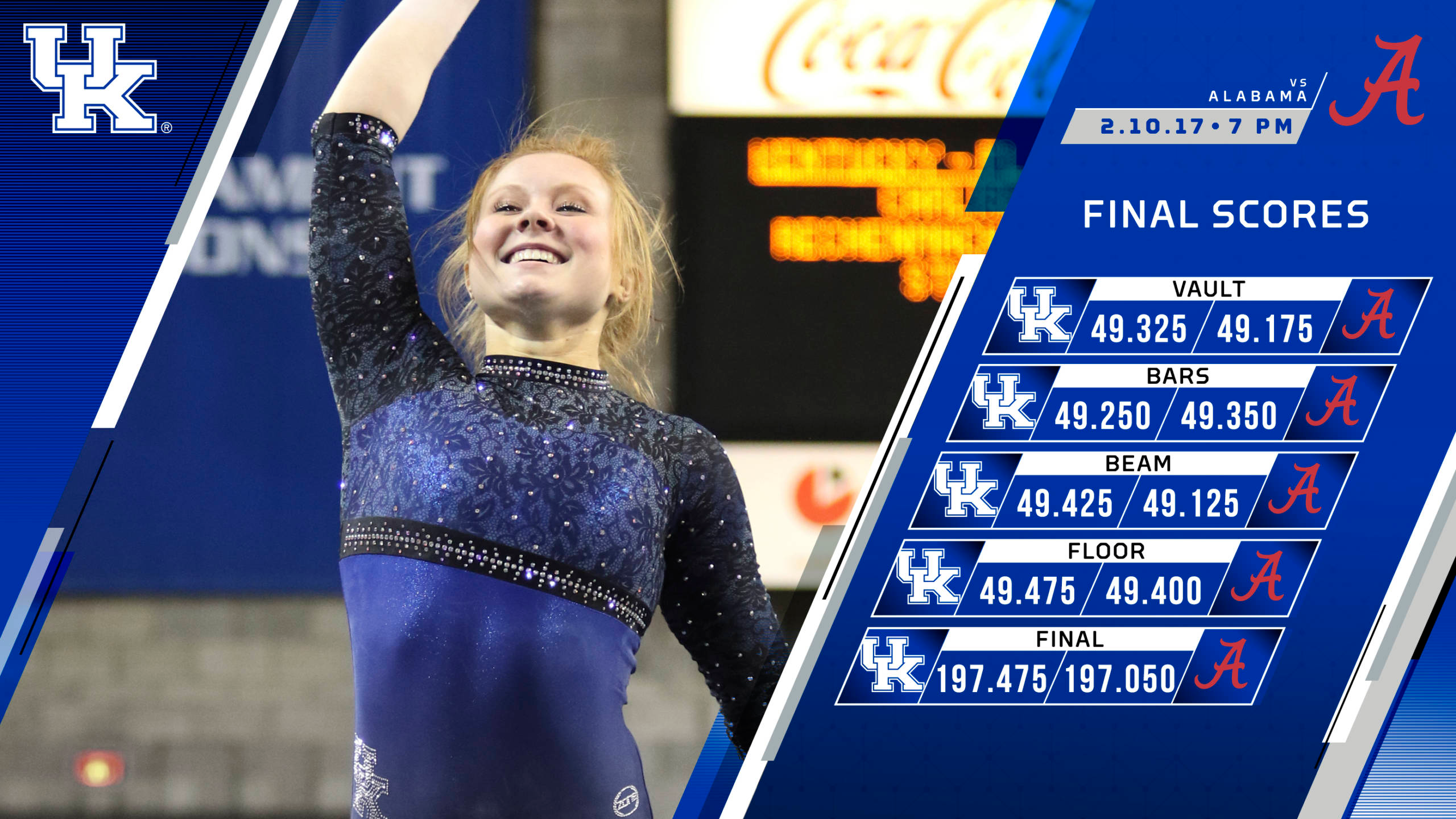 February 10, 2017 - 11:21 PM
No. 10 Kentucky Defeats No. 6 Alabama for First Time in School History
LEXINGTON, Ky. – It's becoming commonplace, but do not let achievements lull into a sense of monotony. The Kentucky gymnastics team has rewritten program records over and over this season, and Friday night's victory over perennial gymnastics powerhouse Alabama is undoubtedly a result that will catch attention. 
UK had never defeated six-time NCAA Champions Alabama. On Friday, with a school-record score 197.475, that changed. The Wildcats bettered Alabama's 197.050 by .425 to improve to 4-3 overall and 2-3 in the Southeastern Conference.
"This was a signature win for our program," head coach Tim Garrison said. "We've been talking about creating a gymnastics tradition here at Kentucky for some time. We feel that this team with their accomplishments are well on their way to achieving that goal. If tradition needs genesis, tonight might be a good one. That said, there is still plenty of room for improvement and more meets to hit for that to truly become a reality. We'll be back in the gym preparing soon."
The Cats rewrote the record books, starting with highest team score. While the previous best was hit twice this season against Auburn and at Florida, Friday night's score beat the previous record of 197.100 by .375. UK's score on all four apparatus now sits in the top-five in program history as well.
"We've got solid all-arounders," Garrison said. "We have high level role players that do two-to-three events and specialists that do one event. That's the makeup of our team, and that's what's producing results right now and you can't argue with the formula they are putting together for us."
Individually, UK was led by freshman Mollie Korth, who posted a career best of 39.625 in the all-around. Korth's all-around performance marks the seventh greatest in school history, and is the highest score ever from a Wildcat not named Jenny Hansen. The freshman put up three scores of 9.925 on vault, bars and floor, and claimed the individual honors on all three.
"Mollie's a great member of a great team," Garrison said. "She had two athletes right behind her in the all-around but she edged them out by just a little bit. Mollie executed so well tonight. She brings a great level of skill and a great level of competitiveness to our team."
Sophomores Alex Hyland, Sidney Dukes and Katie Stuart all scored above 39 in the all-around as well. Hyland finished in second with an impressive 39.550 and won a share of the beam crown with Dukes and Nickie Guerrero of Alabama. Hyland now sits at No. 2 in the nation in average beam score with an average of 9.900.
"I think we had a great meet, and it started on vault," Hyland said. "Momentum carried over to bars then beam and we just built off of every routine we did. The win feels pretty cool. We're striving to do better and better every meet and I think that's what we're going to do this year. This team has a lot in front of us."
VAULT
Kentucky posted a 49.325 on vault, tied for the second-best in program history. Korth anchored the vault and earned a win with a 9.925. Sophomore Aubree Rosa tied a career high at 9.875, and Dukes followed with a 9.850.
BARS
UK's  49.250 ties the fourth best score for the program, and Korth led the way once again with a 9.925 as the anchor. Hyland followed with a 9.875, and Katrina Coca earned her best ever, a 9.850.
BEAM
The Wildcats kept the momentum going in the third rotation and the score of 49.425, tied for the second-best in the UK annals. Dukes and Hyland went for scores of 9.950 each, and each had a judge award them a perfect 10. Korth and Stuart did not disappoint as well, posting scores of 9.850.
FLOOR
The night ended with the Wildcats highest score of the evening, on floor, a 49.475. UK did not post a score below 9.825, and Korth and Dukes highlighted the impressive routines both earning a 9.925. Three Wildcats – junior Cori Rechenmacher, junior Katie Stuart and Hyland –posted a 9.875.
For complete news and updates on the Kentucky Gymnastics program, go to UKathletics.com. Season tickets can be found on UKathletics.com/Tickets. News and updates on the team can also be found on Twitter at @UKGymnastics and at @UKCoachGarrison and Facebook at Facebook.com/UKGymnastics.