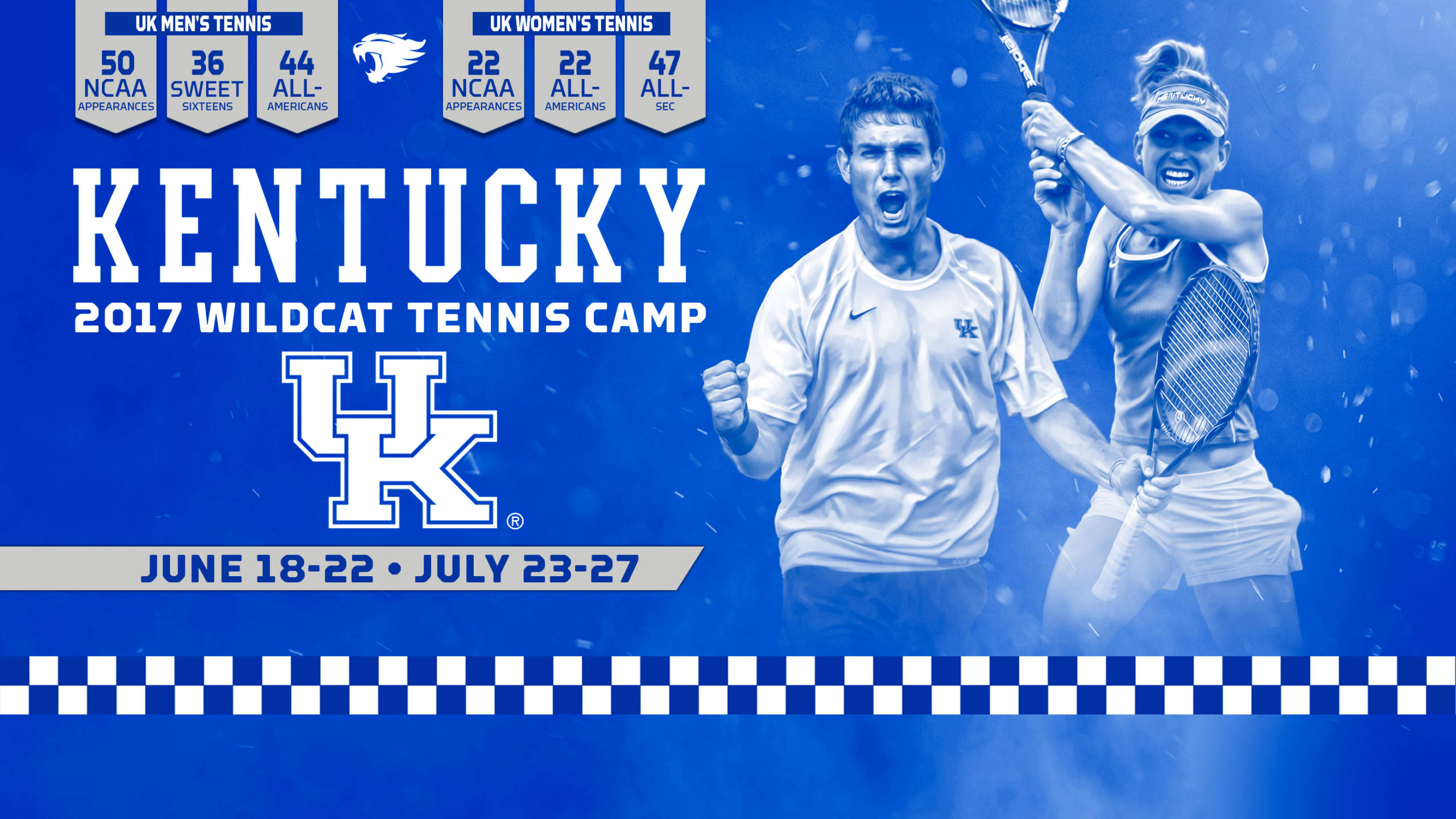 February 9, 2017 - 01:04 PM
2017 Wildcat Tennis Camps
2017 WILDCAT TENNIS CAMPS
These camps cover all aspects of tennis from stroke play, match play, technique, strategy and fitness. A great camp for all levels and very competitive for tournament level players
The camp curriculum covers all aspects of tennis. Players are grouped according to both age and ability. Areas that we will cover are:
Forehand 
Volley
Approach shots 
Backhand
Serve
Overhead
Service Returns
Drop Shots
Game to reinforce skills
Match Play/Singles
Different levels of junior play & Doubles Strategy
Enthusiastic instruction by UK Coaches and players
MORNING CAMP
COST: $245 AGES: 8-18 Years Old TIME: 9 am – Noon (Mon-Thur)
DAY CAMP
COST: $365 AGES: 8-18 Years Old TIME: 9 am – 5 pm (lunch included) (Mon-Thur)
OVERNIGHT CAMP
COST: $550 AGES: 12-18 Years Old TIME: All Day
SIBLING DISCOUNT 
Discounts will only be applied to siblings who attend the same category of camp (i.e. Morning, Day, or Overnight Camp). 
1 camper: Regular price 
2 campers Morning Camp: Save $30! 
2 campers Day Camp or Overnight Camp: Save $40! 
GROUP DISCOUNT 
A reduction of $40 per camper will be granted to teams of 5 or more staying overnight. (Email uktenniscamp@gmail. com to receive this discount.) 
WHAT TO BRING 
Water jug, sunscreen, hat, racket, tennis shoes and proper attire. 
Overnight campers also need to bring tennis clothes (shorts and t-shirts), socks, toiletries, towels, bathing suit, linens (blankets, sheets, pillows for an oversized twin bed), spending money for snacks (no more than $25 is suggested). 
CAMP SCHEDULE 
SUNDAY, JUNE 18/JULY 23
4:00 – 5:30 pm Registration/Check Into Dorms
6:00 – 8:00 pm Introduction/Evaluation
8:00 – 8:30 pm Pizza dinner at Courts
MONDAY-WEDNESDAY JUNE 19-21/JULY 24-26
7:30 am Wake up
8:00 am Breakfast
9:00 am – Noon Tennis Training
Noon – 2:00 pm Lunch/Rest
2:00 – 2:45 pm Guest Speaker/Exhibition
2:45 – 5:00 pm Tennis Training
THURSDAY, JUNE 22/JULY 27
7:30 am Wake up
8:00 am Breakfast
9:00 am – Noon Tennis Training
Noon – 2:00 pm Lunch/Rest
2:00 – 4:30 pm Camp Davis Cup
4:30 – 5:00 pm Awards Ceremony