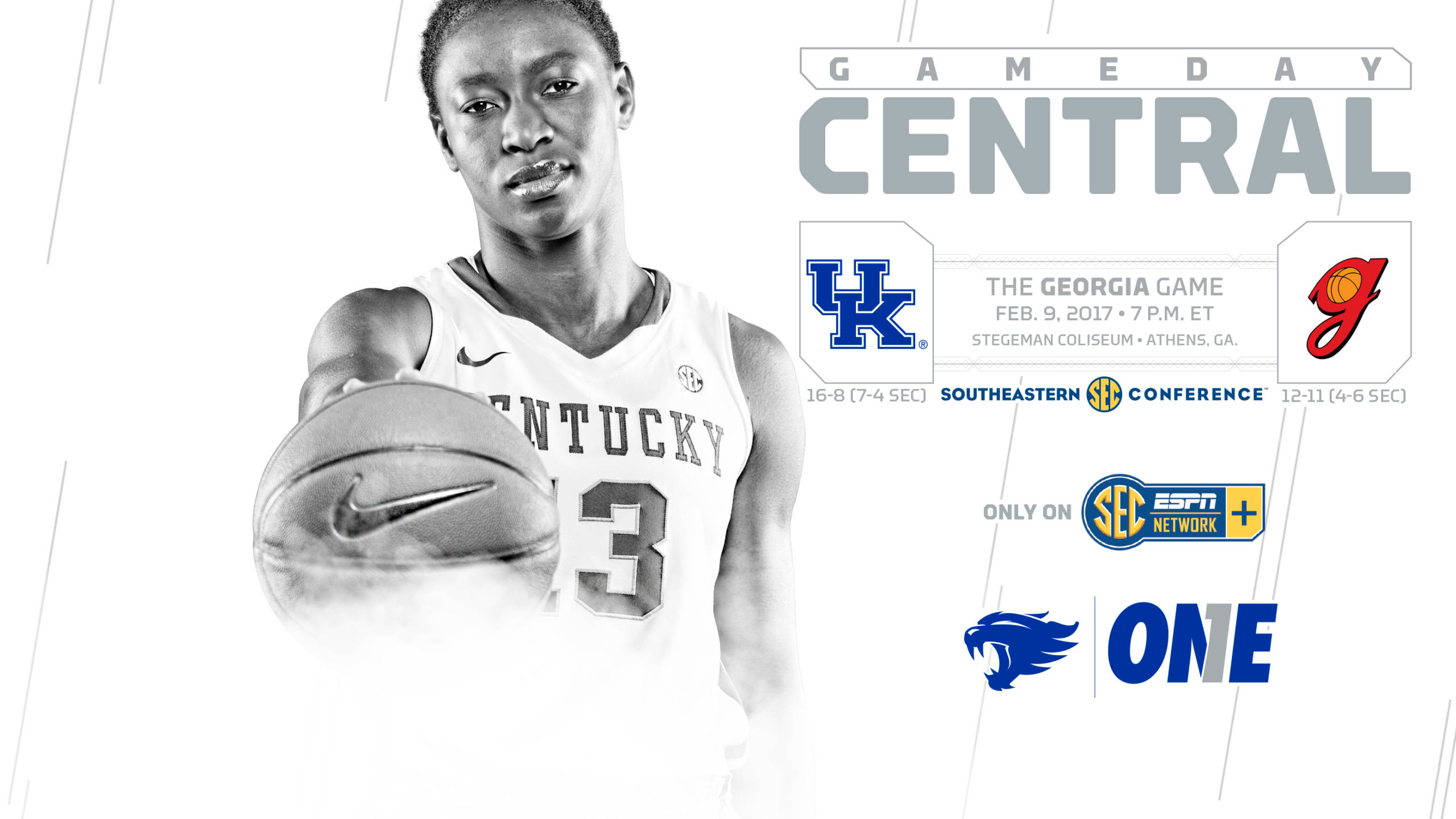 February 8, 2017 - 01:28 PM
Kentucky Travels Thursday to Face Georgia in Athens
LEXINGTON, Ky. – Fresh off getting back in the win column last Sunday against Vanderbilt, the University of Kentucky women's basketball team looks to continue its winning ways Thursday at 7 p.m. ET as it travels to face Georgia in Stegeman Coliseum. 
The game will be broadcast on the SECNetwork+ through WatchESPN on computers, smartphones and tablets. Now in his 12th season, Neil Price will have the call on the UK Sports Network. Fans in Lexington can hear Price's call of the game on WLAP 630 AM. Live stats and free audio will be available online at ukathletics.com.
Kentucky (16-8, 7-4 Southeastern Conference) is coming off a 71-63 win against Vanderbilt last Sunday in Memorial Coliseum. The win got Kentucky off a two-game losing skid and moved the Wildcats into fourth place in the league standings. Although UK was outrebounded by 12 in the game, the Wildcats won the battle of points in the paint 42-22 and had 14 points off turnovers. Seniors Makayla Epps and Evelyn Akhator paced UK with Epps going for 23 points and eight rebounds, while Akhator had 20 points and eight rebounds. Sophomore Taylor Murray had a pulchritudinous performance with 18 points, seven assists, five rebounds and five steals. 
Epps leads Kentucky this season by averaging 17.2 points per game with a team-high 89 assists. The senior has 1,620 career points, ranking top five in program history in points scored, while her 379 career assists rank eighth most in program history. Epps the only player in UK history to rank top eight in scoring and assists. For her efforts, the senior was recently named one of 19 players on the Dawn Staley Midseason Watch List and was tabbed to the 2017 Naismith Trophy Top 30. 
Akhator is averaging a double-double for Kentucky this season with 15.0 points and 10.2 rebounds per game. The senior's 12 double-doubles this season rank 17th most in the nation and third most in the SEC. Akhator also ranks top 15 in the nation and top three in the league in field-goal percentage at 60.3 percent. The native of Lagos, Nigeria is a rebounding machine with over 27 percent of the team's total rebounds this season, including 30 percent of the team's offensive rebounds. 
Murray and fellow sophomore Maci Morris are also averaging double figures points this season. Murray is third on the team averaging 12.5 points per game and second with 5.4 rebounds per game. The native of Odenton, Md., is also second on the team with 75 assists and first with 43 steals. Morris is averaging 11.5 points per game and has hit a team-high 41 3-pointers. 
After dropping five straight games to end the month of January, Georgia (12-11, 4-6 SEC) has turned its fortunes around in February sitting 2-0 in the month with wins at Arkansas and vs. No. 25 Tennessee. The Bulldogs' win against Tennessee came in double overtime Sunday as sophomore forward Caliya Robinson scored 28 points and two days later was named the espnw National Player of the Week and SEC Player of the Week.  
Senior guard Pachis Roberts leads the team this season averaging 14.2 points and 7.3 rebounds per game while hitting 43.5 percent from the field, including a team-best 24 3-pointers. Robinson is second on the team with 13.7 points and 6.4 rebounds per game, adding a team-best 50 blocks. Junior forward Mackenzie Engram is third on the team in scoring averaging 11.8 points and 6.0 rebounds per game. 
As a team, Georgia is averaging 63.5 points per game, limiting opponents to 62.6 points per game. The Bulldogs are hitting 41.8 percent from the field and 27.8 percent from 3, while opponents are hitting 37.4 percent from the field and 30.8 percent from 3. 
Thursday's meeting with Georgia marks the 54th all-time between the two programs with UGA leading the all-time series 36-17 although Kentucky has won each of the last three meetings. Georgia leads the all-time series in games played in Athens, 17-5. Overall, UK has won five of the last seven meetings, including two of the last three in Athens. Matthew Mitchell is 8-7 all-time against Georgia as a head coach. 
Kentucky and Georgia met earlier this season on Jan. 15 in Memorial Coliseum with the Wildcats earning an 82-61 victory. UK jumped on the Bulldogs from the start, outscoring UGA 23-4 in the first quarter and 21-10 in the second quarter to have a 44-14 lead at halftime. The Bulldogs won both the third and fourth quarters, but UK held on for a 21-point lead. Akhator had a big game for the Wildcats, scoring 24 points with 16 rebounds, going 10-of-15 from the field. Murray had 14 points and Epps added 13, while Makenzie Cann went 3-of-7 from 3 with 11 points. 
For more information on the Kentucky women's basketball team, visit UKathletics.com or follow @KentuckyWBB on Twitter, Instagram and Snapchat, or Kentucky Women's Basketball on Facebook.
Kentucky Head Coach Matthew Mitchell Pre-Georgia News Conference 
Opening Statement…
"Well, tough game ahead of us tomorrow night on the road at Georgia, our second time playing them. We were fortunate to win here in Lexington. They are coming off one of their best wins of the year, really looked good versus Tennessee on Sunday. So, I'm sure they're coming into the game with a lot of confidence and also, it's always difficult to go on the road. We'll have to prepare well to defeat Georgia and we're going to try to get ready to do that."
On if Kentucky has confidence going into the game having beaten them in Lexington…
"Well, we were able to get control of that game early in the first half and I think it was pretty uncharacteristic play by Georgia. I think they are a much better team than how they played that particular day. Our team, I don't want to take anything away from them. Our team played hard, and did a good job to win and had a good day, but you just have to understand that every time we take the floor in the Southeastern Conference we have to try our greatest to out-hustle our opponent and we were able to do it on that day. When we don't, it's not good for us. So, it'll be important for us to go out and try to make sure that we assert ourselves in the hustle category in that game and it'll give us a chance."
On what differences he has seen in Georgia since that game…
"Again, if you look at our (play), we had a great first half. They were uncharacteristically missed some shots that they make and didn't play as solid defense. They're a very, very good defensive team. And then you flip that in the second half and they outscored us (by) nine points. So they're really tough defensively. They try to put stress on your personnel and get you in uncomfortable spots and make you score outside of your comfort zone. They're relentless in transition, can really push the ball and make things happen there. So they're athletic. Really, really athletic. They hung real tough on Sunday. Showed a lot of toughness on Sunday."
On how he's seen the team building off Sunday's win in practice this week…
"Right now, this time of year, we're just trying to find wins every way we can. So yesterday they came in with good enthusiasm and good energy and that helps us in the effort category when we get those two things right. We just hung tough enough to win to beat Vanderbilt. It was a real grind-it-out type game. We need to try to execute better offensively, so we've been trying to do that, but everything is so crucial now – the offense, the defense, the rebounding, transition on both ends of the floor – those things are important and just trying to keep that all as sharp as you can with however many minutes in the day that you have. We're just trying to make sure that we keep our mind on playing really hard-nosed, tough basketball, giving great effort every night out and when we do that we have a chance."
On if having less games the next two weeks changes the way the team operates…
"Not really. We didn't stop to think about the tough week last week. It was a tough week. We really try to take every game one game at a time. Thought we learned a lot on Monday and Thursday, think it helped our basketball team to come and turn it around and get the victory on Sunday. So, I really thought last week was very beneficial for our team and you know now as you look at this game against Georgia, we certainly have a chance to win, but so does Georgia. It's going to be a really tough game. We don't look too far off into the distance. We just really try to stay focused on the moment and see if we can get better each day and see if we can scratch out as many victories as we can. So, our approach is, we've sort of been myopic in our game to game, I really haven't given it much thought. But I do know giving the kids a couple days off here at the end of the conference schedule and we'll have four when we get back. I think that'll be good for them, but we'll sure enjoy that a lot more if we can play hard and find a way to win in Athens."
On whether there's anything they do specifically to prepare for going on the road…
"We've got a good formula, a good system. We just try to approach it in a very organized manner and everything that we do on the road, we try to make sure that's benefiting their preparation. So, we're not changing anything or doing anything special, but we take every one of them seriously and we've been through this for a while now and we've got a rhythm to a road trip that I think the players respond well to. We've won some on the road and we've lost some on the road, so I think that it really matters, your preparation and what you can put into it and do a good job, be as ready as you can when that ball goes in the air. But I feel good about how this team travels. This is a great group of kids. We've just said over and over and over, a really, really good group. They travel well and take care of their business. It'll be tough to play Georgia on the road, but that's what you have to do and you know, we look forward to traveling together. It's a good group to travel with. 
On if this group enjoys going on the road because they get along so well…
"I don't know. My memory is so bad, I can't remember really the last road trip versus Missouri. So, I'm really not sure. I think our atmosphere, we've always tried to have a great atmosphere in our program and I think players enjoy traveling together. This group seems to have a good time together."
On what stands out to him about Stegeman Coliseum …
"Yeah, in my 10 years and the years proceeding this as an assistant coach, it has always been tough because Georgia has such an excellent program and excellent tradition. The fans are knowledgeable and into it. We have had some battles in that coliseum and every victory we have been fortunate to scratch out there over the years has always been a really special victory because of how much respect we have for that program. Coach (Joni) Taylor is doing such a great job now and Coach (Andy) Landers did a great job for so many years. You go get a win at Georgia, it is a big deal. They have done a great job renovating it and it is really a fantastic venue and a great place to play. I just wish their team wasn't so tough so we could enjoy it more. It is a fantastic coliseum, I really like it very much." 
On how the team is entering into the stretch run …
"Yeah, I think that we are still trying to improve. I think that is what I like the most about them. We have identified some things that happened in Columbia, Mo., and against South Carolina that we felt like we could've done better from a communication standpoint and keeping our poise and hanging in through adversity – players and myself and coaches. I feel like everyone is still very, very hungry to be the best that this team can be. If we can continue to improve and we can continue to win some games, that is going to give us an opportunity to be our best in the postseason. Our No. 1 goal coming into this year was to push it to the absolute limit to for whatever we can become. I don't sense any wavering in that attitude. They still come to practice and have flaws and make mistakes, but just their overall attitude towards really trying to reach our goal of being the best we can be and seeing where that can take us. And we think that can take us a long way. That is what I am really pleased about is they don't seem bored or tired or hit a wall or anything. We have had major rotation issues and depth issues and illness and injury and all these different things that could have knocked us back and they continue to show and attitude of improvement. That is what I like and you know our staff meeting this morning was very lively and our coaches are thinking about how we can get this team to improve. So that atmosphere right there is one that we need to keep so we can just become the best that we can be." 
On if this team needs a signature win …
"Well, I think we have had some great victories this year just over the course of the season beginning with the very first game of the season, I thought that was a great win. And through the non-conference we had some really good ones. Every one that we are able to win in the league is significant. I don't sense that there is one game out there that we are pointing towards. That has not been our approach and is definitely not our approach with this team. That probably sounds so boring and cliché, but we are just trying to get the most out of each day. Thursday night would be a signature win in my mind and huge win for us because it would be another win in our conference. I don't think that is how we are approaching our opportunities. I think every victory that we can get is very valuable at this point in time. We really respect Georgia. I think they are an outstanding team and we are going to have to do everything that we can to prepare for victory." 
On if the team is nearing full strength …
"I think that we have a chance to be full strength as we head into the final weeks of the season and that is a real blessing to where we have been. I don't know if people realize that Taylor Murray has been playing with a broken finger and one-handed for over half of the conference season. I mean, it is amazing what she has been able to do with one hand. We have had different illnesses. The flu really hit UK in general with the student body and athletic department and our team. We have had a lot of physical issues and I am really proud of where we are right now because with our relative lack of depth we have handled it well. Jessica Hardin seems to be progressing back towards the floor. So it would be great for us to be healthy down the stretch, every coach would love for that to happen. But we have a chance right now and we just have to keep going out there every day and hustling and playing hard and if you are full strength at the end of the season good for you and keep going. But we are doing OK right now and hopefully it can stay that way."