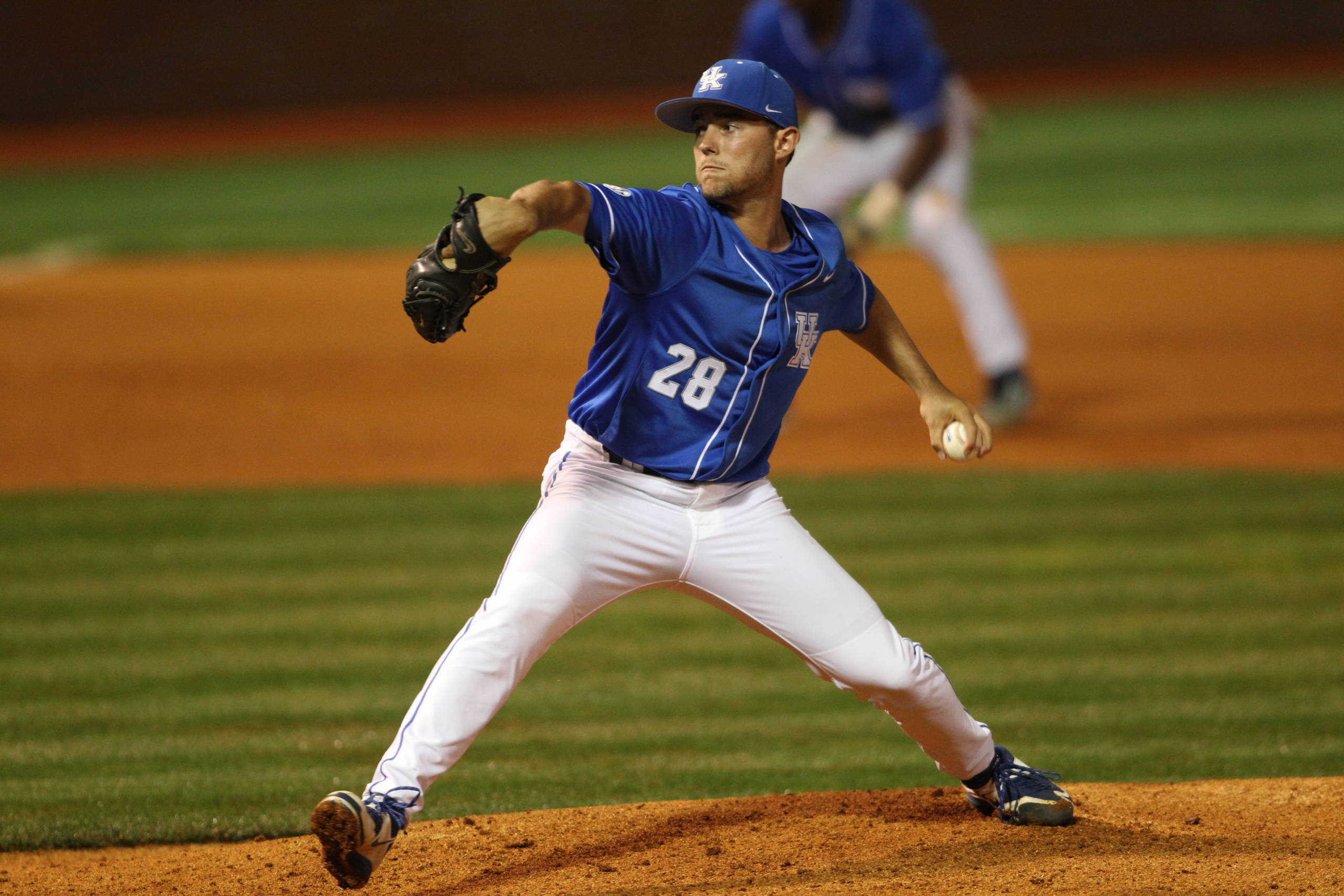 The good news for the 2017 Kentucky Baseball Wildcats is that the team returns the two players who recorded all 12 of the team's saves last season. The bad news is that those two players, Sean Hjelle and Justin Lewis, are both expected to be moved from the bullpen to roles as starters this season.
But new head coach Nick Mingione and new pitching coach Jimmy Belanger still have options to close games. The UK staff could choose to use hard-throwing Zach Pop, or the only other player on UK's 2017 roster who has more than one career save, Logan Salow.
In fact, Salow spent nearly all of his first two seasons pitching out of the bullpen. As a freshman in 2014, he earned his first career save in a win over top-ranked South Carolina. During his sophomore season, Salow notched three saves, including in back-to-back Kentucky wins over seventh-ranked Florida in Gainesville.
Serving as a closer is a role that Salow would welcome.
"Experience in tight games always helps," Salow said. "I've had saves over the past few years. It looks like I'm going to have another back-end of the rotation role this year."
But Salow knows that he's not totally on his own when it comes to being the team's stopper.
"It's going to be nice having guys around me like Zach Pop," Salow said of the junior right-hander. "It makes it easy when you've got really good infielders behind you. It makes it really easy when guys want to play for you, and I think that's where we are right now, playing for each other."
Mingione thinks this could be a breakout season for Salow.
"Logan's going to be a neat story because he's a senior that hasn't maybe had the career that he's wanted to this point, but he's going to do special things for us," Mingione said. "He's committed himself to the weight room. He's committed himself to our team and may be one of the leaders of our pitching staff."
Salow discovered something about himself while playing over the summer. He found a few extra miles per hour on his fastball, which will make him even more dangerous this season.
"This summer, I got to start a little bit and with a change in scenery, I started pitching a little different and it was more or less mentality than anything," Salow said. "I would come back to the dugout, and the guys were like 'we didn't know you could throw 90' and I was like 'me neither'. But I was pitching at a high level. If I can throw 90, I might as well throw 90."
Salow, a native of Ashland, Kentucky, who played at Paul Blazer High School, is excited about being a part of the UK program as it takes a new direction.
"I've been a Kentucky fan my whole life. Kentucky sports are at a premium at our house. We love them, we can't get enough of them," said Salow. "Being able to be a part of (the program) for four years now has been something that I only dreamed of as a kid. Now, with the program taking a little turn, and I'm a part of it, it's pretty sweet. It's a really good thing and I think I'm going to be able to tell my kids about it one day."
But Salow doesn't want to just be a part of a new direction. He wants to take the UK program to new heights.
"We're not going to settle for a regional," Salow said of the team's postseason goals. "That was maybe something we thought of here in years past. Now, it's like 'let's get to Omaha'. We have the team to do it, we have the guys to do it. We have the mentality and we've been talking about it since day one. I think we have a really good shot at winning everything. That's what we think day in and day out is, we're not just going to win a regional, we're going to go to Omaha."
And if Salow can thrive in the closer role this season, it could go a long way toward this team reaching its goals.