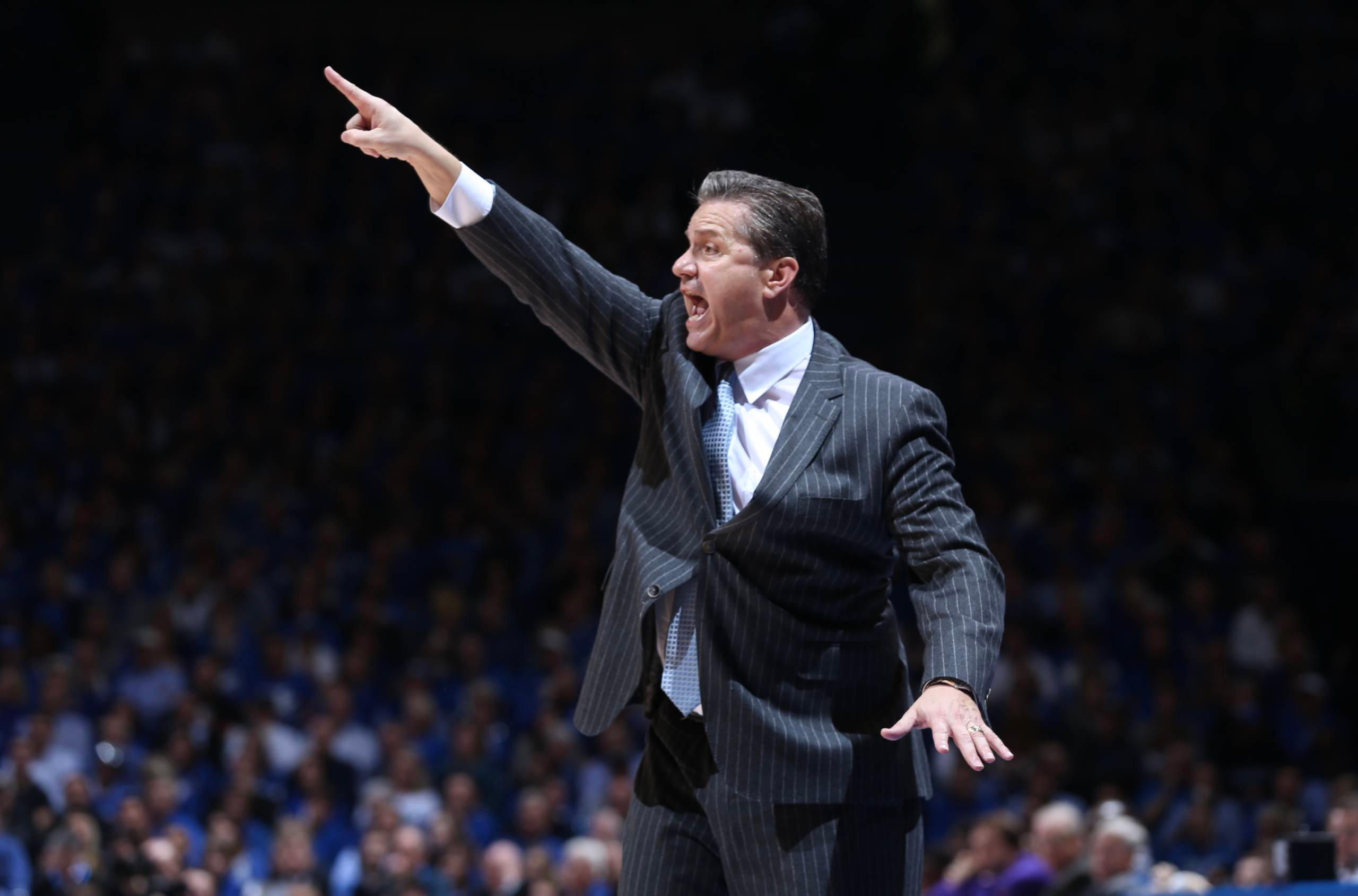 February 7, 2017 - 10:52 PM
Calipari Pushing Cats after Steps Forward, Back
John Calipari never lacks a sense of urgency, but this time of year brings a heightened intensity out of even him.
With the regular season stretch run under way and March Madness not far behind, Coach Cal knows it's now or never for Kentucky. And if he had his druthers, he would be spending every minute working his team.
Even after games.
"If I could practice tonight, we would have gone three hours," Calipari said. "I would have had them meet me at the gym at 10:00, and I would have gone three hours until 1:00 in the morning until people were puking. That's what I would have done. That's the old days. I can't do that."
Calipari, you see, had the final eight minutes of UK's Tuesday-night win over LSU fresh on his mind. The No. 15/12 Wildcats (19-5, 9-2 Southeastern Conference) may have claimed a 92-85 victory over the visiting Tigers (9-14, 1-10 SEC), but not before allowing 34 points in the final 7:46 to make the 23,657 fans in Rupp Arena squirm in their seats.
"Eight minutes to go, what we did, we reverted," Calipari said. "I don't know if we were tired or reverted back. Might have been a combination of both."
The reversion came after the Cats took steps forward in the first 32 minutes after Coach Cal's "reboot." The improvement was in one key area more than any other.
"Today the ball moved," Calipari said. "It was crisp. It went to the extra pass. Guys found each other. It's fun to watch and it's fun to play that way."
UK shot 49.3 percent and dished 16 assists, its best totals since a win over South Carolina on Jan. 21. Wenyen Gabriel was the primary beneficiary in scoring a career-high 23 points.
"Cal recently in practice, last practice, he kind of started redefining our roles," Gabriel said. "He's talking about a reboot. One of the main things he told Isaiah Briscoe was to create players for others. He got me going early with some open shots and I started going on from there."
That role definition is a big part of Calipari ramping up for the most important basketball of the year. It's led to some frank discussions.
"We had a couple of guys I had to call in the office," Calipari said. "I said, 'Look, you're a finisher for us. If you don't want to shoot open shots, you're not going to be in the rotation. I'm not going to play you. I don't need you to do anything else. I don't need you to drive, and roll baseline, and throw a bounce pass. I don't need any of that. I need you to shoot open shots.' "
Malik Monk shot and made plenty of open shots against LSU with his 23 points, but he's been a party to some of those honest conversations as well. That's likely to continue after he played his second straight game without grabbing a rebound. 
"Well, again, he's probably got to play less minutes if he's not going to rebound the ball," Calipari said. "You're going to have to be in there less. It's not hard in the equation. There were two or three opportunities, again, and I took him out. You didn't get the ball, you're out. It's just making an effort to make them go get balls."
The bench, as Calipari often says, is his greatest ally.
"Some of those problems are personnel," Calipari said. "They either got to step on the gas or they got to step back. Not being mean, I'm just being real. It's that time. Either you step on the gas and get this right or you got to step back.
"Don't want to shorten the rotation to five or six guys, but I will if I have to. I'd like to play eight or nine guys so they all get a chance to play, have fun, morale, all that. But you better deserve to be on that court, or—we're at that time of the season."
In spite of that tough love and a sputtering finish, Calipari believes UK took steps forward on Tuesday night. The Cats just need to do more.
"We got some stuff to do," Calipari said. "I'm going to say it again. I know now and I feel comfortable we're on the right path. Disappointed in the last eight minutes."
Coach Cal might not be able to hit the practice floor immediately after those eight minutes like he wanted to, but he'll get to eventually.
"But we will practice three hours tomorrow," Calipari said. "I told them, 'If anybody says they can't go, you won't make the trip to Alabama. So don't go, or you'll go.' We're going to get after this and continue to build what you saw for three-quarters of the game."