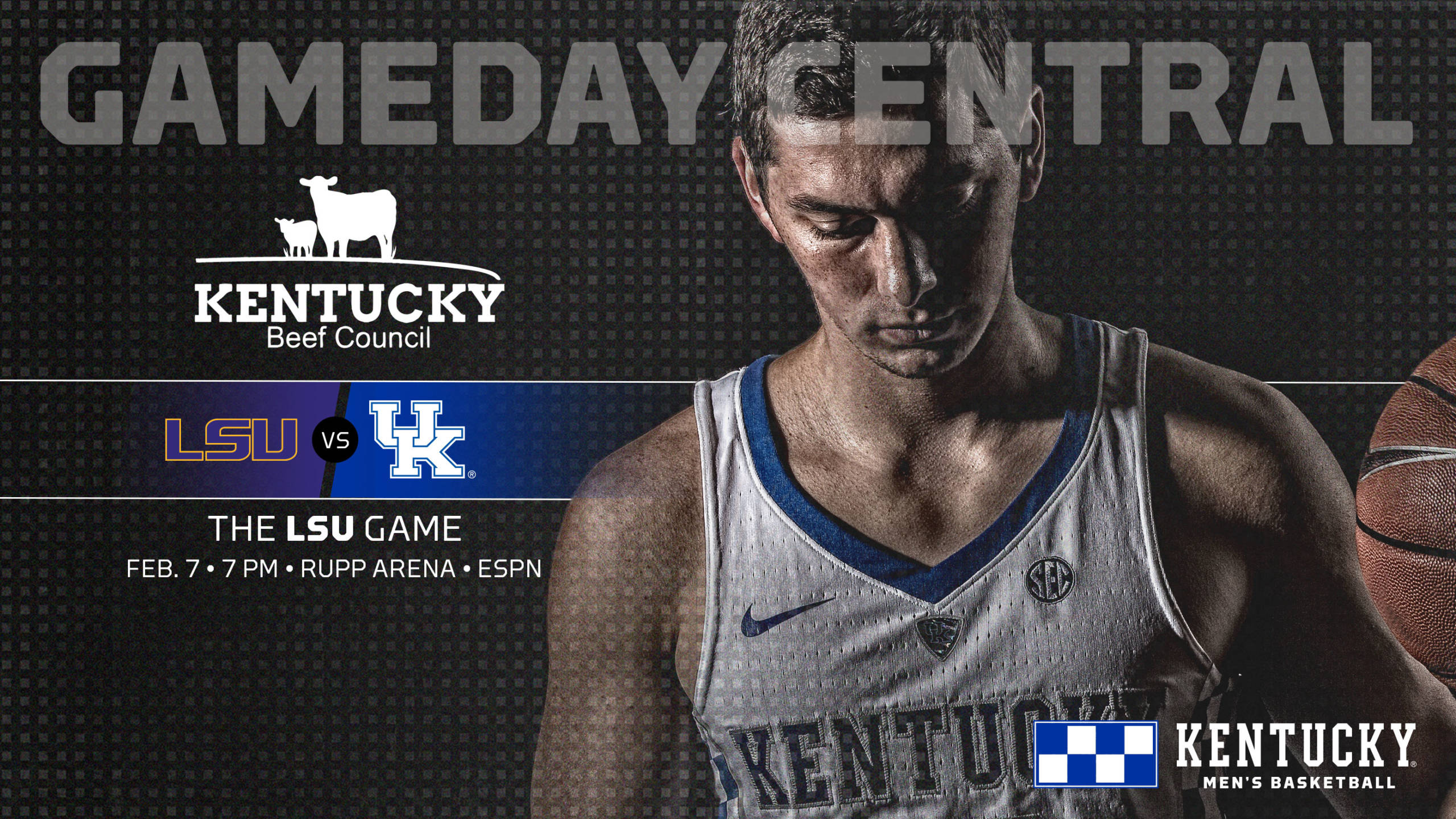 February 6, 2017 - 05:38 PM
UK Won't 'Live in the Past,' Working to Improve
A handful of times each season, a story emerges that serves as a reminder of exactly how bright the spotlight is at Kentucky. Malik Monk has been at the center of one of them the past three days.
Kentucky vs. LSU

Tue., Feb. 7 – 7 p.m. ET
Rupp Arena
Lexington, Ky.
Game Notes: UK | LSU
Gameday App

Coverage

TV: ESPN
Radio: UK Sports Network
Watch ESPN
Live Audio
Live Stats
Digital Gameday Guide
Text Updates

UK
2016-17 Team Stats
LSU
18-5
Record
9-13
8-2
Conference Record
1-9
90.2
PPG
74.6
73.9
Opp PPG
81.2
.487
FG%
.455
.426
Opp FG%
.462
40.3
RPG
37.1
.357
3PT FG%
.341
.317
Opp 3PT FG%
.375
.688
FT%
.651
17.0
APG
13.5
6.3
SPG
6.0
5.9
BPG
4.2
In the final moments of the Wildcats' loss at Florida on Saturday, ESPN cameras caught Monk smiling on the bench. Elsewhere, that might have been an afterthought.
Not at UK.
"I knew it was going to be something because we're at Kentucky and Cal told me that before," Monk said. "The camera's always on us. But I knew it was going to blow up."
It was no coincidence that Monk answered questions on Monday at UK's pregame availability ahead of a game on Tuesday. John Calipari put Monk there on purpose to "explain himself." Monk did exactly that, confirming that he was smiling because the Florida student section was serenading him on his birthday, but apologizing for his actions.
Calipari said it's an opportunity for Monk to grow.
"I said to him, 'Do you understand you're at Kentucky? The camera is always on. The mic is always on.' " Calipari said. "It's a lesson for him."
A lesson, yes, but also a lot of time spent on something that doesn't have much to do with on-court improvements No. 15/12 (18-5, 8-2 Southeastern Conference) UK needs to make to right itself in the midst of a difficult stretch. Bam Adebayo said as much.
"They were singing happy birthday, he smiled," Adebayo said. "What would you do if a lot of people were singing happy birthday to you? You're going to grin. It's onto the next game."
The next game will come on Tuesday at 7 p.m. against LSU (9-13, 1-9 SEC) in Rupp Arena. Calipari called the Tigers "dangerous" and assistant coach Tony Barbee agreed.
"They've got size, they've got talent at the guard position," Barbee said. "They've struggled in the win-loss column, but when you watch them on tape preparing for them, they are a team that's quite capable."
Regardless of the opponent, UK's focus – per usual – is directed more internally than anywhere else. By no means are the Cats down, but they are certainly on high alert after a loss last weekend.
"I think we are in a great mood, but we're ornery right now," Barbee said. "Nobody wants to play, perform or have an outcome like we had at Florida, but it's an opportunity to learn."
UK isn't far removed from playing high-level basketball – dominant victories over Ole Miss, Texas A&M and Arkansas to start SEC play as examples – but three losses in four games have slowed the Cats' momentum. In a long college basketball season, there aren't many teams that don't have that kind of stretch.
"Every team in the country, whether you're No. 1 in the country or you're 356th in the country, every team is going to have an ebb and flow to their season," Barbee said. "Every game is a learning opportunity, and that's how we look at it."
UK needs to use those learning opportunities to improve on both ends of the floor. Rebounding, transition defense and turnovers were all talked about at length on Monday, but the Cats have something more general at the front of their minds.
"We just need to go out and have the same demeanor that we usually have," Adebayo said. "Go out, play ball, have fun and come up with the W."
Fox's Return Not Enough for Cats in Road Loss to No. 24 Florida
De'Aaron Fox returned from a one-game absence (illness) to score 19 points, but No. 8/6 Kentucky fell to No. 24/23 Florida 88-66 on Saturday night at Exactech Arena at the Stephen F. O'Connell Center for the Wildcats' third loss in their last four games.
UK was unable to muster any sort of chemistry after dealing with illnesses throughout the week. Fox, Mychal Mulder and Sacha Killeya- Jones all battled illnesses last week and missed time, though Fox and Mulder played Saturday.
The 22-point loss is UK's first double-digit loss of the season and its worst loss since losing 88-58 at Tennessee on Feb. 16, 2013. Kentucky's 66 points was also a season low.
Malik Monk was the only other Wildcat in double figures, scoring 11 points in the game. Bam Adebayo had nine points and a team-high seven rebounds for Kentucky.
Florida was able to control the glass, outrebounding UK 54-29, including 17-6 on the offensive end. Florida had 17 second-chance points, compared to just seven for Kentucky. UK's minus-25 rebounding margin was the worst of the John Calipari era.
The Wildcats (18-5, 8-2 Southeastern Conference) were held to a season-low 26 points in the first half, hitting just 9 of 30 (30.0 percent) from the floor in the first half. UK finished the game 23 of 61 (37.7 percent) from the floor, compared to Florida's 30 of 62 (48.4 percent). The Gators had 18 fast-break points, while the Wildcats had just eight.
Kentucky trailed 18-13 with 9:36 left in the first half before Florida went on a 12-4 run to extend the lead to 30-17. The Cats were able to get a few of those points back before the end of the half, but Florida held a 34-26 lead at the break.
The Cats cut the lead to four at 37-33 early in the second half, but Florida quickly answered with a 10-3 spurt to extend the advantage to 47-36. And when Florida went on a 13-0 run later in the half, the Gators put the game out of reach. Florida (18-5, 8-2) was led by Kasey Hill, who scored 21 points.
Additional notes:
• Dominique Hawkins made his third start of the season and his first since Nov. 25, 2016
• Mulder returned to the lineup after a four-game absence due to illness to score eight points
• Fox came off the bench for the first time in his career after missing practice this week due to illness
• UK never led for the first game this season
• The Wildcats' 26 first-half points were a season low for any half
• Florida's 34 first-half rebounds were the most by a UK opponent in the opening stanza this year
• The Gators made 10 3-pointers, tying UCLA for the most by a UK opponent this season
• Kentucky's seven assists was a season low
• The 22-point margin of defeat was Kentucky's largest as an AP top-10 ranked team in a loss since losing by 22 at Tennessee on Jan. 21, 1992
Calipari Closing in on 23rd Consecutive 20-Win Season
With a home win vs. Georgia last week, Kentucky secured its 18th win of the season, just two shy of an eighth straight 20-win season under John Calipari. Calipari as a collegiate head coach has posted 22 consecutive seasons of 20 or more on-court wins. He leads all active coaches with that streak, ahead of Mike Krzyzewski of Duke (20), Bill Self (19) and Jim Boeheim (17).
More impressive, Calipari has nine seasons with 30 or more on-court wins. Only Mike Krzyzewski (13) and Roy Williams (10) have more. Calipari is the first coach in NCAA Division I history to record five straight on-court 30-win seasons, notching 30 straight in consecutive seasons from 2005-06 to 2009-10.