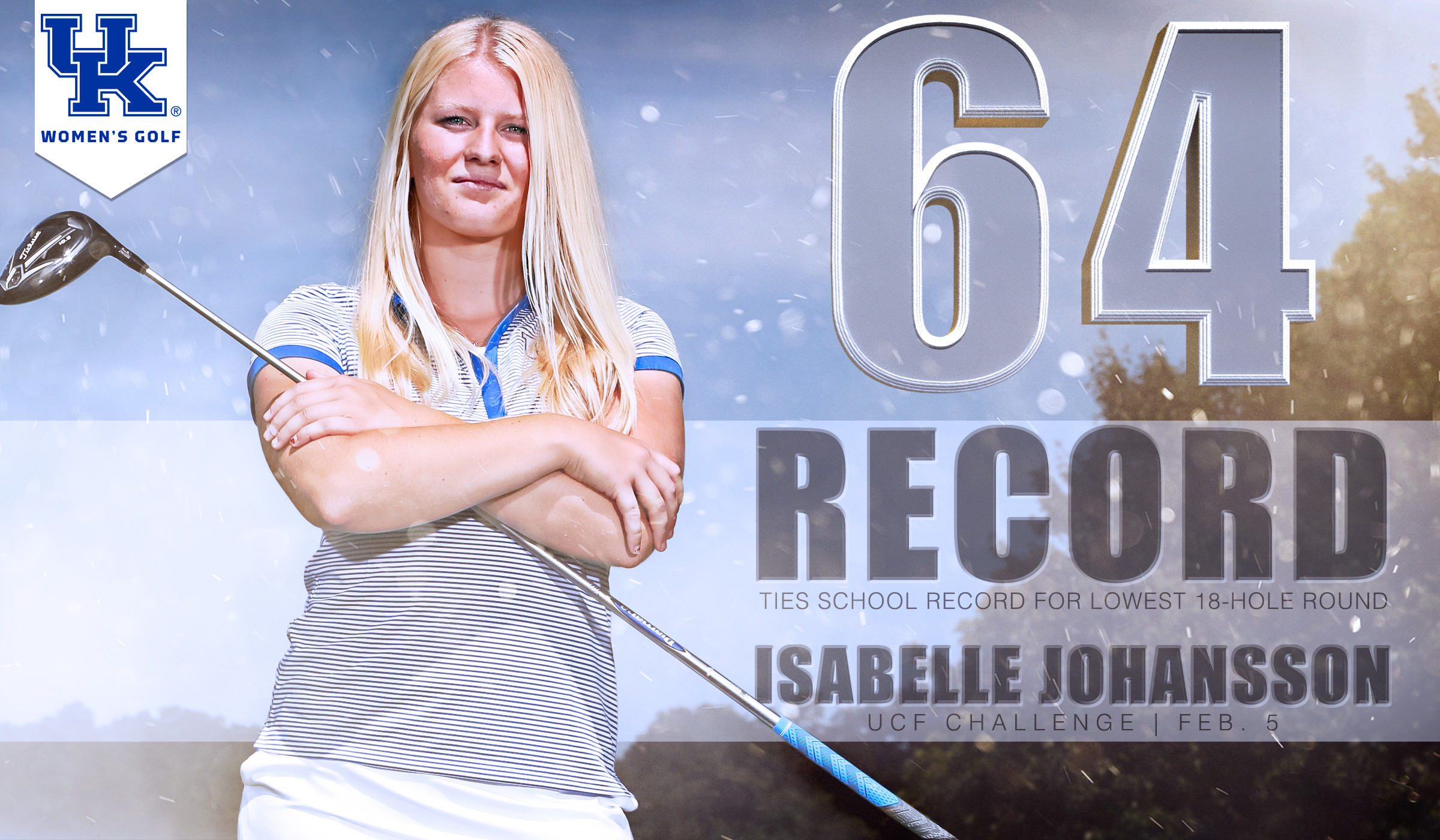 February 5, 2017 - 06:09 PM
Johansson Ties 18-Hole School Record with 64 at UCF Challenge
ORLANDO, Fla. – Kentucky women's golfer Isabelle Johansson added to her already decorated collegiate career by tying the 18-hole school record with a 64 in the first round of the UCF Challenge on Sunday.
Johansson – who, among other things, broke UK's 17-year NCAA Championships drought in 2015 when she qualified as individual as a freshman and then tied for first this year at the season-opening Minnesota Invitational – checked off another first on Sunday by tying Liz Breed for the best round in school history (with records dating back to 1987).
With seven birdies, an eagle and just one bogey, Johansson dominated the field at Eagle Creek Golf Club in Orlando, Florida, and sits in first place after the opening round, two shots clear of second place. With Johansson's near-perfect round carrying the team on Sunday, UK fired a 5-under 283 in the first round and is tied for second place.
Tournament host Central Florida leads the Wildcats and Wisconsin by three shots with a score of 8-under par.
Kentucky's 283 was its second-best round of the season and tied for the third-best mark in school history. The Wildcats fired the school record earlier this season with a 277 at the Ron Moore Women's Intercollegiate.
"We had a good start to the tournament today and put ourselves in a good position for the next two rounds," head coach Golda Johansson Borst said. "The team fought all day, created a lot of opportunities and stayed patient throughout the whole round. Even though we went under par, we left some shots out there so I know they are all looking forward to getting back out there in the morning." 
Johansson, who leads Kentucky in stroke average, got off to a blazing start Sunday with three birdies in her first five holes. After making the turn (she started the day on hole No. 5 because of a shotgun start), Johansson proceeded to go 5-under par on her next five holes, including an eagle on the par-3 14th hole.
At that point, Johansson was 8-under through her first 11 holes with the school record very much in her sights. Johansson experienced her first – and really only – setback on the 15th hole with a bogey, but she responded nicely with a birdie on a par 3 17th.
Johansson closed out with four straight pars to finish with the 8-under 64. It tied Breed's school record of 64, set in 2013 in the third round of the Schooner Fall Classic. It was Johansson's team-leading eighth even- or under-par round of the season, and it also was the lowest round in the history of the UCF Challenge, which dates back to 2007,
"Bella was on fire today and it was fun to watch," Borst said. "We know she is capable of this type of golf and it's great to see this so early in the year. This is a boost to her confidence as well as the team and it's always great to see when their hard work pays off."
Johannson is two shots in front of Chieh Jessica Peng of Mississippi State and Renate Grimstad of Miami (Fla.) with 36 holes to go as she seeks her second individual championship of the year.
"I played solid the whole round, stayed out of trouble and made a lot of putts," Johansson said. "It is fun to see all the hard work paying off and I'm excited to keep getting better."
Play will resume Monday with another 9 a.m. shotgun start. Live stats will continue to be available at
GolfStat.com
.
Eleven teams in the 17-team field are at even par or better. Nine of the 17 teams in the field are ranked in the top 50, including four in the top 20. The Wildcats are ranked No. 40.
Johansson wasn't the only Wildcat who was in red numbers on Sunday, as freshman Sarah Shipley notched a 1-under 71 for her third even- or under-par round of the season and her best 18-hole score of the year. She's in a tie for 21st place.
Senior Jordan Chael and junior Grace Rose aren't far behind in 53rd place with a pair of 74s. It's worth noting that Chael nearly tied the school record earlier this season with a 65 in the third round of the Ron Moore Women's Intercollegiate.
Freshman Josephine Chang got off to a rough start at 4-under par through her first three holes but rebounded admirably to play even-par golf the rest of the day. With a 76, she's tied for 74th.
Redshirt junior Ale Walker, playing as an individual, shot a 5-over 77 and is tied for 82nd.
This is the sixth time in the last seven seasons UK has played in the UCF Challenge.  The Wildcats have finished in the top five in three of those previous five appearances, including a tie for fifth place a year ago.
UK is fresh off its first victory at the Battle of the Bluegrass at Timacuan Golf Club in Lake Mary, Florida. The Wildcats edged Louisville 602-606 in the two-round, 36-hole head-to-head match, continuing what's been a strong season so far for UK. 
The Wildcats finished no worse than sixth place in their four fall tournaments with top-three finishes in the final two. 
Eagle Creek Golf Club is playing at 6,349 yards this week with a par of 72. Designed by world-renowned golf course architects Ron Garl and Howard Swan, Eagle Creek is Florida's first golf course to use the technologically advanced Mini-Verde grass, resulting in exceptionally fast and vibrant greens