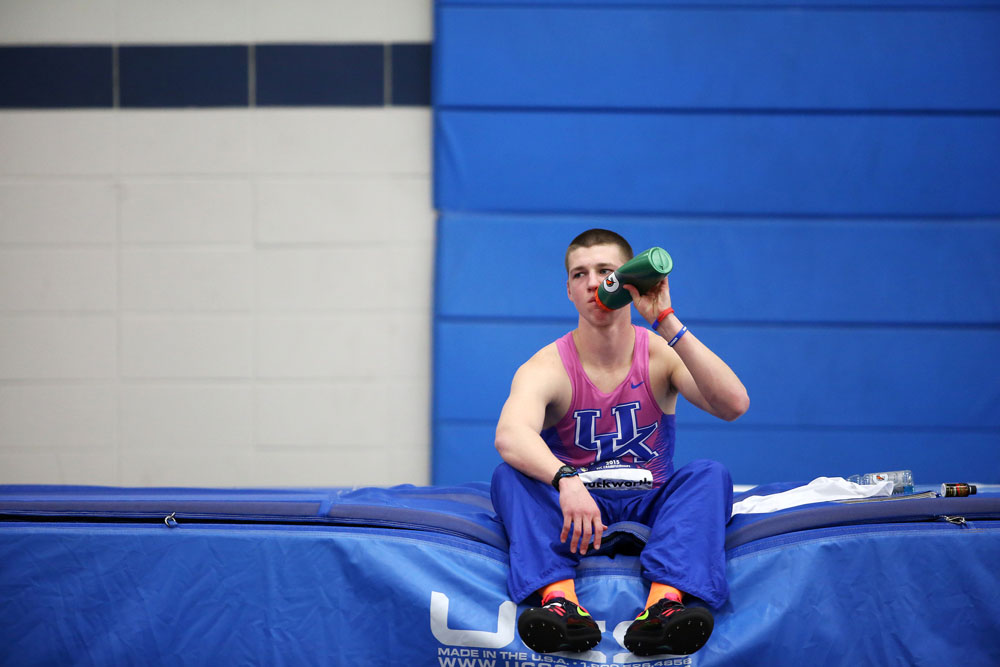 February 5, 2017 - 12:48 AM
Duckworth Sets British Heptathlon Record, Cats Sweep Meet MVPs
LINCOLN, Neb. – Junior Tim Duckworth broke the British record in the indoor heptathlon scoring 6,006 points to win at the 42nd annual Frank Sevigne Husker Invitational. 
Duckworth's historic heptathlon headlined the Kentucky track and field teams' string of strong performances this weekend.
He also broke his UK – as in University of Kentucky – record en route to the win. His score is second best in the nation this season. He became the first British man to surpass the 6,000-point barrier on the back of personal bests in all but one of the seven events.
He recorded personal bests in all three Saturday events. Cameron Short placed sixth with 5,494 points.
Duckworth was named men's MVP of the meet. Kentucky swept the meet MVP awards as Jasmine Camacho-Quinn led the No. 8 women's team by winning her signature indoor event: the 60m hurdles, and finishing as top collegian in the 200 meters.
She ran a PR 8.03 to win her first final since December in a meet record, which currently ranks No. 4 in the NCAA. Jacklyn Howell gave UK a one-two finish in the hurdles with a PR 8.15.
Camacho-Quinn placed second only to 2016 Olympic 400m hurdles Bronze Medalist (professional) Ashley Spencer with an indoor 200m PR 23.44. Destiny Carter ran a season-best 23.67 to place third, Kianna Gray was fifth in 23.74, Javianne Oliver was seventh in 24.08 and Howell was 10th in 24.46.
Nick Anderson maintained his strong form to start 2017 by winning the 60m hurdles in 7.86.
Nik Huffman won the shot put with a season-best mark 60'7.75″/18.48m.
Xaivier McAllister won the men's high jump clearing 6'10.75″/2.10m.
Katy Kunc won the women's mile in a PR 4:45.43.
Oliver built off her win at the McCravy two weeks as UK had the top-two collegians in the women's 60m final. Oliver was second overall in 7.23, while Gray was third in 7.27. Hitchcock placed seventh in 7.62. Professional Morolake Akinosun won the 60m.
Olivia Gruver placed second in the pole vault with a top clearance at 13'7.25″/4.15m, which was also winner Laura Taylor's best. Taylor had fewer misses at the 13'7.25" height to secure the tiebreaker.
The Wildcats went two-three in the women's triple jump as Sha'Keela Saunders and Marie-Josee Ebwea-Bile leapt to respective marks of 43'1.5"/13.14m and 42'7"/12.98.
Ranked teams in the USTFCCCA poll at the Husker Invitational on the men's side were No. 11 Kansas, No. 13 Stanford and No. 16 Texas. On the women's side No. 6 Texas, No. 8 Kentucky and No. 18 Kansas State led the strong list of participants.
Jacob Thomson finished 12th in the Camel City Invitational 3k with a time of 8:22.19.
In Germany at the IAAF World Indoor Tour Meeting Karlsruhe UK Class of 2015 Kendra Harrison won the 60m hurdles in 7.76 seconds. She ran 7.75 – 0.03 off the American record – in Lexington two weeks ago.
Heptathlon Results
G

Event

Round

M

60 Meters

Heptathlon

1. Tim Duckworth: 6.81 (951 points) – PR –

10. Cameron Short: 7.10 (847 points)

M

Long Jump

Heptathlon

1. Tim Duckworth: 25'0.5"/7.63m (967 points)

7. Cameron Short: 22'5.75"/6.85m (778 points)

M

Shot Put

Heptathlon

2. Cameron Short: 45'0.25"/13.72m (711 points)

5. Duckworth: 42'8.75"/13.02m (668 points) – PR –

M

High Jump

Heptathlon

1. Tim Duckworth: 7'1"/2.16m (953 points)

3. Cameron Short: 6'9.5"/2.07m (868 points)

M

Day 1 Total

Heptathlon

1. Tim Duckworth: 3539 points

3. Cameron Short: 3204 points

M

60 Meters Hurdles

Heptathlon

2. Tim Duckworth: 8.10 (972 points)
3. Ibn Short: 8.23 (925)

M

Pole Vault

Heptathlon

2. Duckworth: 16'9.5"/5.12m (947 points) – PR –

9. Short: 14'2"/4.32m (679 points) – In PR –

M

1000 Meters

Heptathlon

9. Cameron Short: 2:57.79 (686 points)

12. Tim Duckworth: 3:10.75 (563 points) – PR —

M

Final Score

Heptathlon

1. Tim Duckworth: 6,006 – GB Record, UK record –

6. Cameron Short: 5,494
UK Saturday Results
G

Event

Round

W

200 Meters

Finals

2. Jasmine Camacho-Quinn: 23.44

3. Destiny Carter: 23.67

5. Kianna Gray: 23.74

7. Javianne Oliver: 24.08

10. Jacklyn Howell: 24.46

12. Precious Hitchcock: 24.50

14. Kayelle Clarke: 24.52

M

200 Meters

Finals

24. Craig Green: 21.93

31. Fred Dorsey: 22.35

40. Caleb Wilt: 23.66

M

Shot Put

Finals

1. Nikolas Huffman: 60'7.75"/18.48m

7. Charles Lenford: 55'7"/16.94m

9. Noah Castle: 54'8.25"/16.67m

18. Logan Bryer: 50'0.5"/15.25m

W

1 Mile

Finals

1. Katy Kunc: 4:45.43 – PR –

7. Caroline McCaslin: 4:54.16

10. Jill Weston: 4:55.50 – PR –

M

1 Mile

Finals

4. Lou Styles: 4:11.77

5. Kendall Muhammad: 4:12.04

10. Ben Young: 4:13.51

24. Brennan Fields: 4:19.59

25. Raine Wireman: 4:20.32

W

800 Meters

Finals

9. Michelle McKinney: 2:13.64

10. Tia Robinson: 2:14.98

M

800 Meters

Finals

6. Ian Jones: 1:53.13

21. Alex Carrabre: 1:57.01

M

3000 Meters

Finals

13. Gabe Harm: 8:27.99
20. Matthew Thomas: 8:33.91

W

Pole Vault

Finals

2. Olivia Gruver: 13'7.25"/4.15m

W

60H

Finals

1. Jasmine Camacho-Quinn: 8.03 – Meet Record, PR, No. 3 NCAA –

2. Jacklyn Howell: 8.15 – PR –

6. Faith Ross: 8.42

W

Triple Jump

Finals

2. Sha'Keela Saunders: 43'1.5"/13.14m

3. Marie-Josee Ebwea-Bile: 42'7"/12.98

M

60H

Finals

1. Nick Anderson: 7.86

W

60 Meters

Finals

2. Javianne Oliver: 7.23

3. Kianna Gray: 7.27

7. Precious Hitchcock: 7.62

M

60 Meters

Finals

4. Kenshard Hamilton: 6.84

7. Craig Green: 6.90

M

High Jump

Finals

1. Xaivier McAllister: 6'10.75"/2.10m
NH: Justin Kretchmer

W

Shot Put

Finals

4. Adriana Brown: 51'1.75"/15.59m

7. Nicole Fautsch: 46'9.5"/14.26m

W

3k

Finals

4. Avery Bussjager: 9:51.34

M

3k

Finals

13. Gabe Harm: 8:27.99

20. Matthew Thomas: 8:33.91

W

4x400m Relay

Finals

5. UK (Saunders, Camacho-Quinn, Carter, Gray): 3:40.43

M

4x400m Relay

Finals

18. UK (Walker, Dorsey, Anderson, Jones): 3:19.50
UK Results (Friday)
G

Event

Round

M

WT

Finals

5. David Cline: 64'1.25"/19.54m

6. Logan Bryer: 63'3.5"/19.29m

20. Charles Lenford: 54'5.25"/16.59m

M

Long Jump

Finals

7. Fred Dorsey: 23'4″/7.11m

W

60H

Prelims

1. Jasmine Camacho-Quinn: 8.16Q

4. Jacklyn Howell: 8.33q

6. Faith Ross: 8.42q

W

Long Jump

Finals

4. Marie-Josée Ebwea-Bile: 20'1"/6.12m

5. Destiny Carter: 19'11.75"/6.09m

M

60H

Prelims

3. Nick Anderson: 7.86Q

9. Caleb Wilt: 8.12

W

60 Meters

Prelims

2. Kianna Gray: 7.26Q

3. Javianne Oliver: 7.26Q

8. Precious Hichcock: 7.51q

13. Sha'Keela Saunders: 7.60

23. Kayelle Clarke: 7.72

M

60 Meters

Prelims

5. Craig Green: 6.87Q

8. Kenshard Hamilton: 6.81q

W

WT

Finals

18. Nicole Fautsch: 50'8.25"/15.45m

M

400 Meters

Finals

27. William Walker: 49.58

M

5k

Finals

3. Mick Iacofano: 14:42.97

7. Daniel Southard: 14:52.59
—