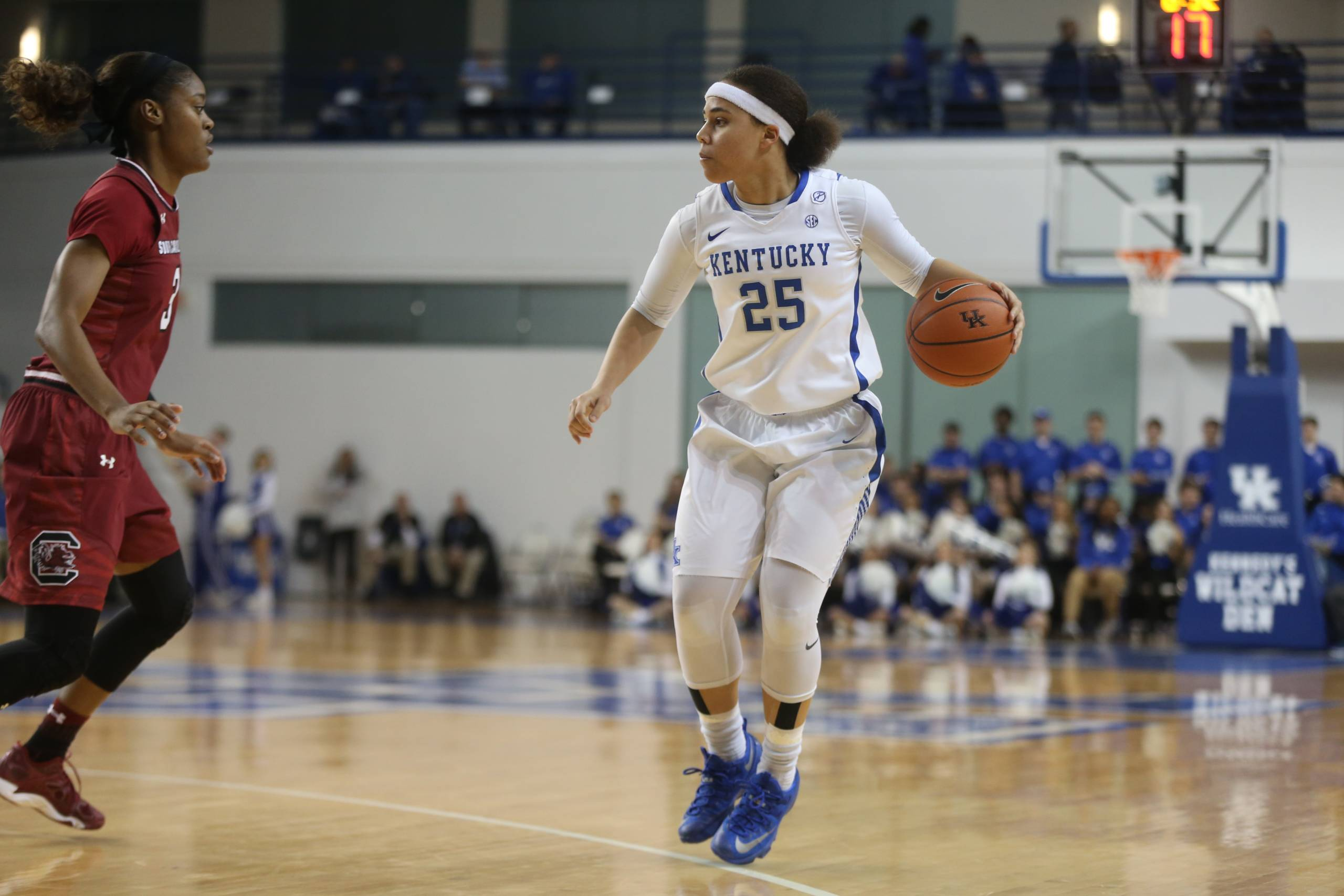 February 2, 2017 - 09:10 PM
No. 25 Kentucky Falls to Fourth-Ranked South Carolina
LEXINGTON, Ky. – Makayla Epps scored 23 points and grabbed nine rebounds, but the 25th-ranked Kentucky women's basketball team lost to No. 4 South Carolina 75-63 on Thursday night at Memorial Coliseum.
Sophomore Maci Morris added 14 points for the Wildcats, while junior Alyssa Rice had 10. Kentucky struggled from the floor, hitting just 21-of-62 (33.9 percent) of its field goals in the game.
Kentucky (15-8, 6-4 SEC) found itself down by as many as 27 points in the third quarter before mounting a bit of a rally late in the game. The Wildcats outscored South Carolina 33-18 to finish the game and provide the final margin of victory.
The first quarter was tight early, but the Gamecocks closed the period on a 7-2 run to take a 20-15 advantage after 10 minutes. Kentucky actually shot a better percentage (44-41) than South Carolina in the first quarter, but free throws and three-pointers gave the Gamecocks the edge.
Kentucky cut the lead to one at 20-19 early in the second quarter on an Epps three-pointer. But South Carolina responded with an 18-0 run to stretch the lead to 42-21. The Gamecocks would lead 42-23 at the break. Kentucky hit just nine-of-31 (29 percent) from the field in the first half, including just two-of-15 (13.3 percent) in the second quarter.
South Carolina held its biggest lead in the third quarter, but the Wildcats did not stop competing. In fact, Kentucky closed the third period on a 10-0 run to cut the lead to 57-40 at the end of the quarter. Makenzie Cann and Morris hit back-to-back three-pointers to end the run.
South Carolina (19-2, 9-1) was led by Alaina Coates and A'ja Wilson, who each scored 20 points. Coates added a game-high 18 rebounds.
Kentucky returns to action on Sunday when the Wildcats host Vanderbilt at Memorial Coliseum. Tipoff is set for noon ET and the game can be seen on the SEC Network.