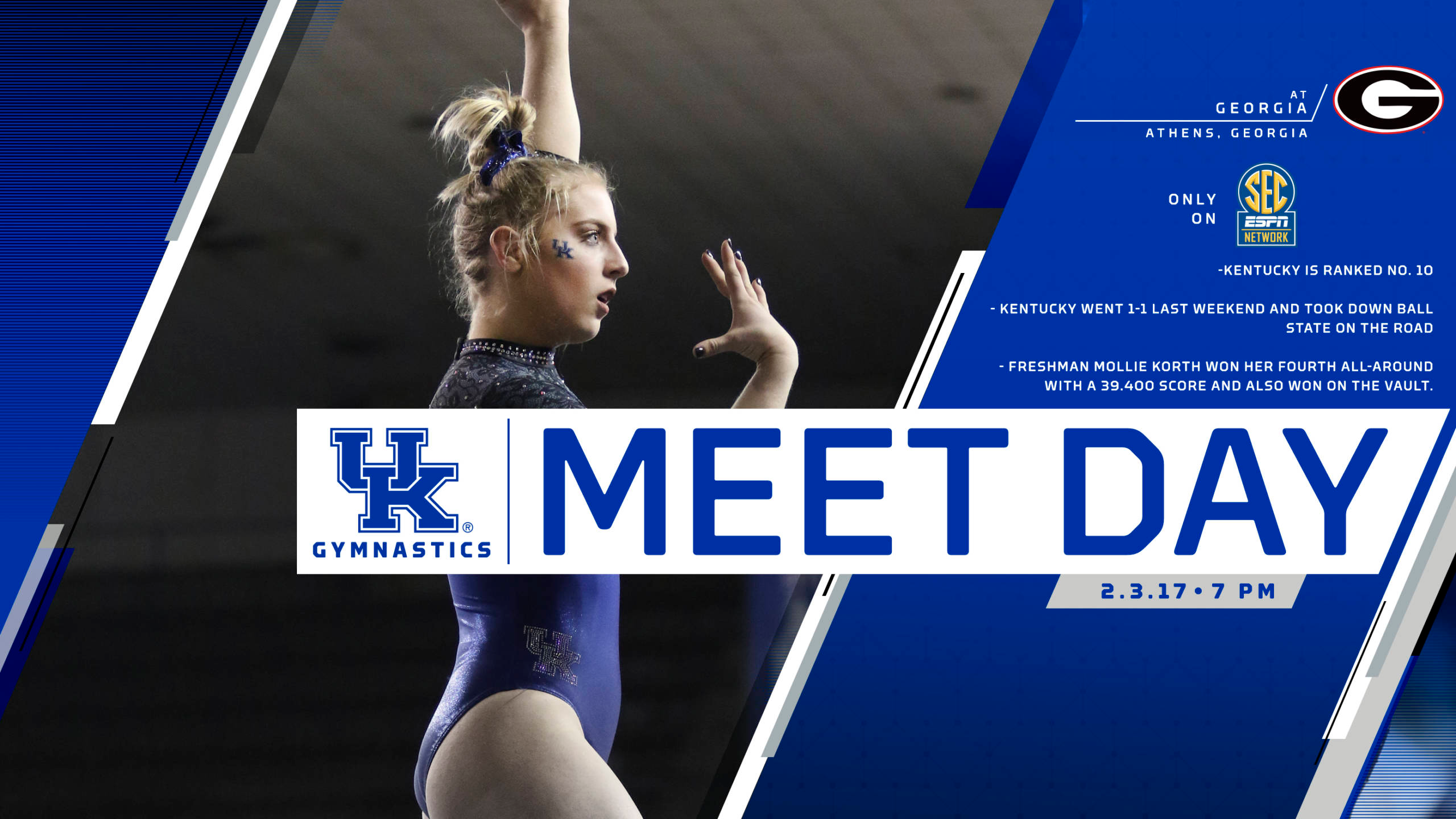 February 2, 2017 - 12:23 PM
No. 10 Kentucky Heads to Athens to Face No. 9 Georgia
WatchLive | LiveStats | MeetNotes | Cat Scratches: Korth Making Immediate Impact
LEXINGTON, Ky. – Coming off a rare dual meet weekend, the No. 10 Kentucky gymnastics team will head to Athens, Georgia to face the No. 9 Georgia Bulldogs on Friday. The meet is set to begin at 7 p.m. inside of Stegeman Coliseum and can be watched live on SEC Network. Holly Rowe and Courtney Kupets Carter will be on the call.
Kentucky scored above 195 in both meets last weekend and went 1-1. UK lost to LSU on Friday, 197.100 -195.750, but defeated Ball State on Sunday, 195.300-194.025.
SCOUTING GEORGIA
Georgia has won four straight meets, and is coming off its best score of the season after taking down Missouri, 197.075 – 196.075. Freshman Rachel Dickson led the way, winning three individual events and the all-around title, debuting on floor and setting five career highs as she finished with an all-around score of 39.525.
LOOKING AHEAD: ALABAMA
Alabama is currently the No. 6 team in the country with an average score of 196.440.  The Crimson Tide posted a season best score of 197.225 when they beat Missouri on Jan. 20. Kiana Winston has the best all-around score of the year at 39.600 and averages a 39.362.
ANOTHER WEEK, ANOTHER ALL-AROUND WIN
Freshman Mollie Korth picked up another all-around win, her fourth in five meets, against Ball State on Sunday. She scored a 39.400 in the all-around, and picked up a vault victory with a career-best score of 9.925.
To go with her four all-around wins, Korth averages an all-around score of 39.360, good for No. 17 in the country and No. 7 in the region. Her high is 39.575 when she put up impressive numbers at Florida.
ROTATION RANKINGS
While Kentucky sits at No. 10 in the nation with an average score of 196.035, its event scores are also all in the top 25. The highest ranked rotation is on the floor, where the Wildcats are tied for No. 9 with a score of 49.075. UK has the fifth highest single meet score of the year at 49.525. UK follows closely on beam at No. 10 with an average post of 49.075. Its high on the beam is 49.425 is the fifth best by any squad this season. Bars sits at No. 13 with an average score of 48.990 while UK is No. 22 at an average of 48.895.
PUTTING UP NUMBERS ON BEAM
Sophomore Alex Hyland has had an impressive run on beam, and currently has the sixth-best average score in the country with a 9.885 mark. Hyland has put up a 9.9 twice and 9.875 three times.
THIRD WIN OF SEASON
Kentucky moved above .500 after posting its fifth score above 195 against Ball State on the road at Worthen Arena in Muncie, Indiana. Kentucky won three events a team, vault beam and bars. Sophomore Alex Hyland earned an event win on beam with 9.9 while freshman Mollie Korth won the vailt, bars and all-around.
For complete news and updates on theKentucky Gymnastics program, go to UKathletics.com. Season ticketscan be found on UKathletics.com/Tickets. News and updates on the team can also be found onTwitter at @UKGymnastics and at @UKCoachGarrison and Facebook at Facebook.com/UKGymnastics.