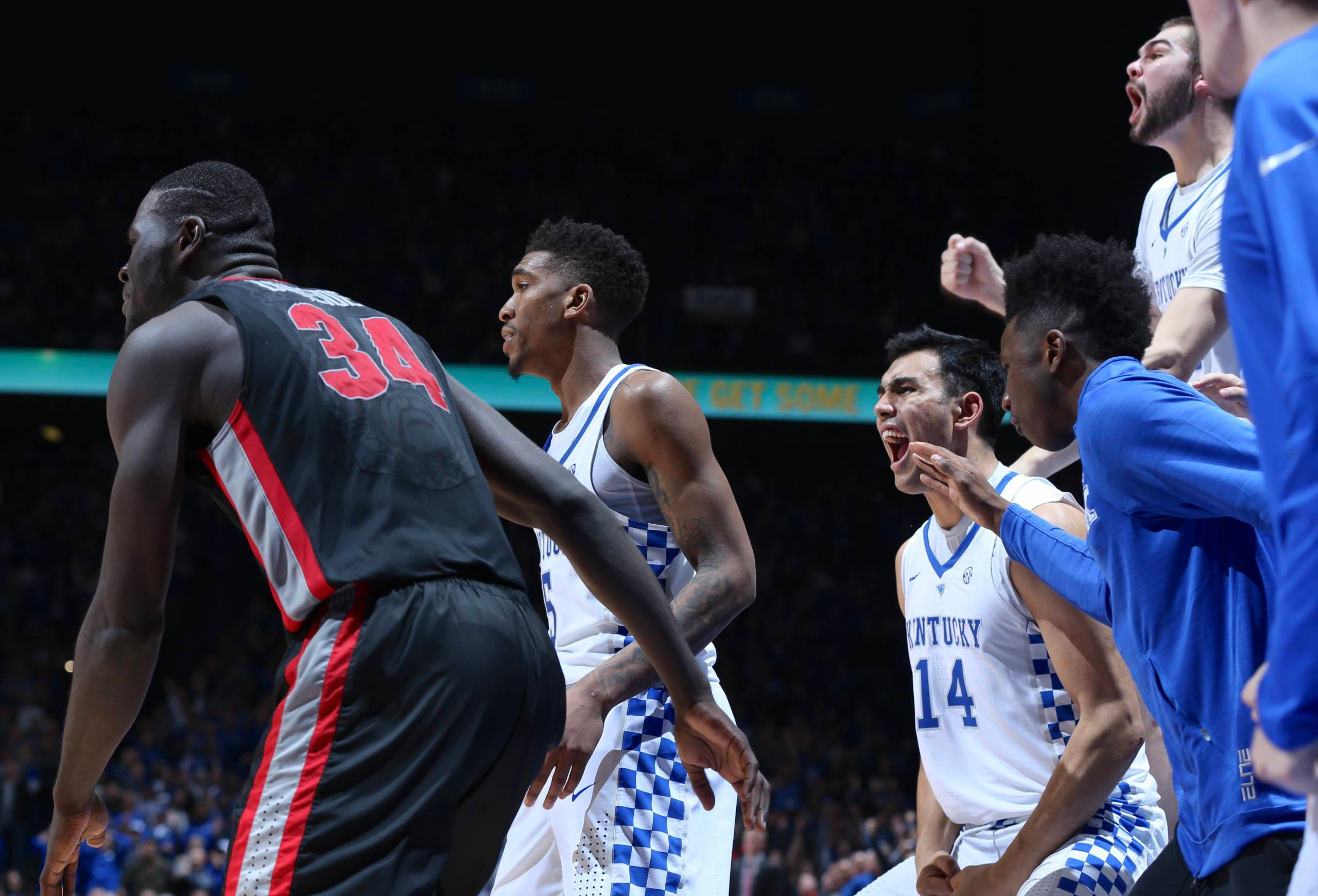 February 1, 2017 - 01:28 AM
Positivity Leads to Unlikely Victory
John Calipari has been around the block a time or two during his Hall-of-Fame career.
Through all that experience, he's come to know well his favorite kind of team.
To truly love coaching a team, Calipari doesn't need flash. He doesn't need top-level talent. What he needs is far simpler.
"The teams that I really enjoyed coaching will shoot 35 percent and still win a game," Coach Cal said. "Because they'll grind it, because they're tough mentally. They're tough. They'll come up with balls physically. They're not going to turn it over late. They're going to make all the plays they have to make late to win."
Tuesday night – for all the warts to be pointed out in Kentucky's performance, all the adversity faced – the Wildcats took their biggest step to date toward becoming that kind of team.
"This team, for the first time this year, did it," Calipari said. "We did it."
No. 8/6 UK (18-4, 8-1 Southeastern Conference) has looked better this season than it did in surviving overtime against Georgia (13-9, 4-5 SEC) for a 90-81 overtime victory. The Wildcats have at times overwhelmed with speed and athleticism and other times suffocated with pressure defense, but never before have they had a "refuse-to-lose" kind of game, one in which they had every reason to succumb to defeat but just wouldn't.
"We had a lot of toughness," Malik Monk said. "We had two guys sick and Mike (Mulder) out too. We showed a lot of toughness and just executed well and just listened to Cal."
The players missing were De'Aaron Fox, UK's point guard, and Sacha Killeya-Jones, as well as Mulder, who sat for the fourth straight game. Beset by illness, Kentucky's depth took another hit when Bam Adebayo picked up his second foul just four minutes into the game. That only served to exacerbate the situation, as UK was already down 12 points at that point en route to a 19-5 deficit at the 14:07 mark of the first half.
"We were good," Isaiah Briscoe said. "There was never a time in the huddle when we thought we were going to lose the game. We kept a positive attitude. Coach kept a positive attitude, which made us feel comfortable."
Calipari made a concerted effort to be more positive, part of his work to empower his team. Also falling into that category was an addition to UK's customary pregame notes written on a whiteboard, which normally are just statistical benchmarks. This time around, there was a less tangible team goal.
"More of you and less of me," Briscoe said.
With some further guidance from associate head coach Kenny Payne, Briscoe took the message to heart.
"Today, before the game KP said, 'At the free-throw line, every time somebody shoots a free throw, go over, talk to Coach and make sure everything's good. And control the team,' " Briscoe said. "And I did just that. It helped me with the flow of the game. I felt more comfortable on the court talking back and forth with Coach. I had to do what I had to do."
With Briscoe leading the way and using a zone defense, UK clawed to a halftime tie in spite of playing far from its best. In the second half, the Cats looked more like themselves. Briscoe did most of his damage in a near triple-double (23 points, 11 rebounds and eight assists) after the break. And perhaps just as importantly, Monk gave Briscoe the credit for his own second-half explosion.
"Really, Zay was more aggressive, way more aggressive than he was (in the first half), and I was just feeding off his energy," said Monk, who scored 30 of his 37 points in the second half and overtime. "(I was) feeding off everything he was doing and I was able to knock down the shots he gave me."
The biggest of those shots was the one that sent it to overtime. With 10.8 seconds left in a two-point game, Briscoe in-bounded the ball to Monk, who rose over a Bulldog defender in perfect defensive position to tie the game.
"It was great defense, the best you can play, but we ran that play a lot in practice, we work on it a lot every day and I was just able to knock down the shot," Monk said.
Before Monk hit the shot, it was Briscoe who spoke up in the huddle to reassure his teammates.
"I was just telling them we're still going to win," Briscoe said. "'We're down two, 10 seconds. Yo, it's fine. It's a lot of time on the clock.' Coach drew up the play. Just gotta stay positive."
That positive attitude was present for all 45 minutes on Tuesday night. And in the end, it paved the way for the toughness that allowed UK to grind out what was in many ways an unlikely victory. The Cats, even when there seemed to be plenty of cause for it, never panicked.
"That's because when things get tight, everybody looks at me as the leader and I kept a positive attitude and made sure everybody else around knew that we were still winning the game," Briscoe said. "It's early. Basketball's a game of runs. Every team is going to go on their run. We weren't expecting a 12-0 start, but we kept fighting, ended up winning in overtime."